(This page is for the Wild Rose decal, for the Wild Rose undergalze pattern made for Quaker Oats, see this page: QO's Wild Rose.)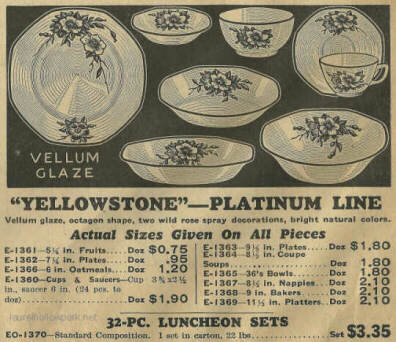 Designated as decal number 6112 in company records, the Wild Rose decal was first used on the Wells shape in the early 1930s as treatment number W-7133. It would go on to be used on several Homer Laughlin shapes throughout the 1930s and 1940s.
The rather generic name of Wild Rose was given by Butler Brother's in their wholesale catalogs which featured the pattern on Yellowstone in Century's Vellum glaze with platinum trim. The advertisement to the right comes from a 1931 Butler Brothers catalog and shows treatment number Y-172.
While Wild Rose was first used on Wells and Yellowstone, it is most often found on the Virginia Rose shape. There were at least four different uses of the decal on Virginia Rose, but the most common is VR-269 which has platinum trim. It was also used on Eggshell Nautilus and Kitchen Kraft.
Scrap prints of Wild Rose were used on a variety of "specialty" shapes, namely platters and jugs. Shown below are two such examples using Century and Nautilus Ivory.
Some of the treatments using the Wild Rose decal include:
W-7133, Wells shape with platinum trim
Y-172, Yellowstone Vellum with platinum trim
Y-216, Yellowstone shape with gold trim
Y-220, Yellowstone Vellum with gold trim
Y-222, Yellwostone shape with platinum trim
C-68, Century Vellum with platinum trim
VR-269, Virginia Rose with platinum trim
VR-326, Virginia Rose, one decal sprig only
VR-447, Virginia Rose, no trim
N-1697, Eggshell Nautilus with gold trim
GCM-4, Virginia Rose with green trim (for G. C. Murphy)