Willow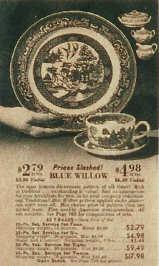 In the early 1930s, several American potteries were using transfer-printing to decorate dinnerware. Originally developed in England, the process involved using rollers which would transfer a design onto special paper. The paper, which now had the design in a colored glaze, was applied to a dish in a bisque state. When the paper was removed, the design was transferred to the dish. The piece would then be given a clear glaze, fired, and finished. The result was dinnerware with a one-color, all-over, underglaze decoration.
The Homer Laughlin China Company started using this method heavily in 1934. It took some time to get the process to work properly. New machines had to be ordered and special rollers made. There were several times HLC sought out the advice of surrounding potteries, especially the Taylor, Smith & Taylor Co. which had been using the process for several years prior. Once all the kinks were straightened out with production, HLC stared their Willow line of dinnerware.
In April 1934, work began on creating Willow treatments. These were then turned over to the Arc Engraving Company of Youngstown, Ohio which made the special copper sheets. These sheets would be used as a basis to transfer the design onto the special paper that would be applied to the bare dishes. Several different Willow patterns were considered until finally a traditional pattern was chosen.
The flatware came from the Kwaker shape, but there were several options for the hollowware. Wells and Kwaker were the top contenders. At one point Frederick Rhead notes in his journals the possibility of using some OvenServe shapes. It was decided in June of 1934 that special pieces were to make up most of the hollowware. This included a sugar, creamer, sauceboat, lug soup, cream soup, and a jug.
Production of Willow began soon after the hollowware pieces were created in July of 1934. For the next year, there were minor changes to the design and the engravings in order to make manufacturing more efficient. Pieces were added later such as a modified Nautilus pickle for a sauceboat stand. The casserole was picked up from Empress and the teapot was made using the Wells base and special lid to match the Willow shape sugar lid.
Several retailers carried Blue Willow (as well as a pink version made in the very late 1930s and early 40s) including Woolworth's Marshall Fields, and Sears. A Willow "boat mark" wasn't used very long and was replaced with the general HLC backstamp. Pink Willow was not made too long after 1942 and Blue Willow was discontinued around 1965.
After HLC was successful with the Willow line, they started using the transfer-printing process on other shapes. Coronet, Century, and Orleans are just a few that made use of different one-color transfer designs. There was one instance in early 1936 where Fiesta compartment plates were being considered with the Willow treatment for Woolworth's. Rhead noted making samples on March 27 of the same year, but these must have not gone any further than the planning stage. In 1942, the Liberty shape was developed along with a special "Historical America" transfer design.

Blue Willow covered sugar and creamer


Blue Willow casserole - Empress shape


Blue Willow gravy


Blue Willow egg cups


Blue and Pink Willow creamers


Blue Willow teapot - modified Wells shape


Pink Willow teapot - modified Wells shape


1-quart jugs, Blue and Pink Willow jugs with a pearlized glaze example dated 1943.
---
Americana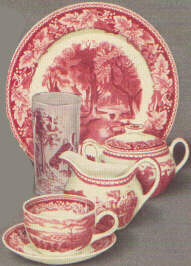 On May 25, 1939, J.M. Wells informed Rhead that Montgomery Wards wanted a special line with "printed American patterns." Two weeks later, Rhead went to Chicago, Illinois to meet with Montgomery Wards on the new line and other HLC wares. Later that day, he noted in his journals going to the Chicago Art Museum, Chicago Public Library, and bookstores to hunt for Currier and Ives subjects.
On June 11th and 12th, Rhead worked on Currier and Ives treatments to be used on the same shapes as Willow. After meeting with Ed Fry (buyer for Wards) the shapes and patterns were decided upon and work began on the new line on June 19, 1939. Wards offered the line, called Americana, from 1940 until 1956. Each piece has a special Currier and Ives scene with the title is printed in the backstamp in red. The official treatment number for the line was W-2553.
There were some special shapes made for American at the request of Wards, all of which were released into production on March 29, 1940. The Americana line consisted of
Flatware from Kwaker
Square plate - originally Century, but later Nautilus
Sugar, creamer, sauceboat, cup, saucer - from Willow
Sauceboat stand - modified Nautilus pickle
Teapot, cream soup cup and liner, demitasse cup and saucer - designed forAmericana
Casserole - Brittany with the second style, solid finial lid
An advertisement from the 1950s describes the line as: "...the first ware of its kind to equal the distinguished quality and soft rose-pink color of fine imported ware. Americana has scenes taken from the finest Currier and Ives prints - printed from copper engravings under the glaze so they can never come off."
A set consisting of 53 pieces could be purchased for $19.99. Matching frosted tumblers were sold as go alongs.
| | |
| --- | --- |
| "Fox Hunting" bowl | Americana creamer |
Americana test plates from the collection of the Fiesta® Tableware Company.
Americana examples along with their corresponding backstamps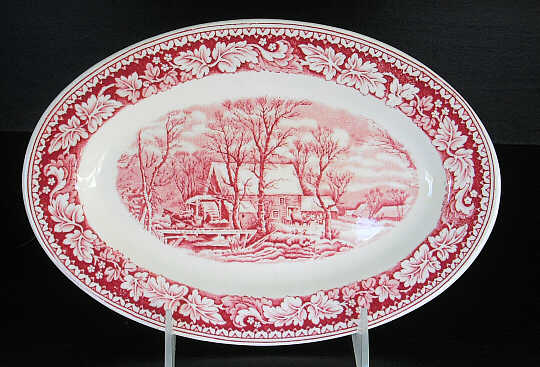 9" platter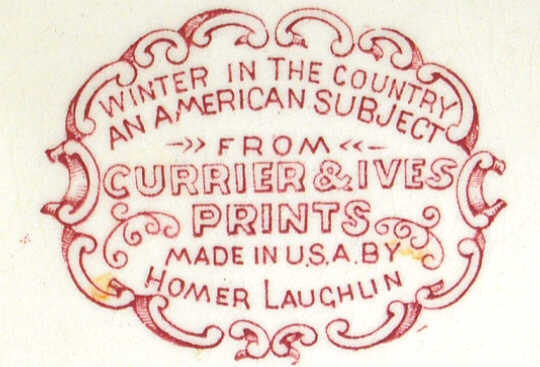 9" platter marking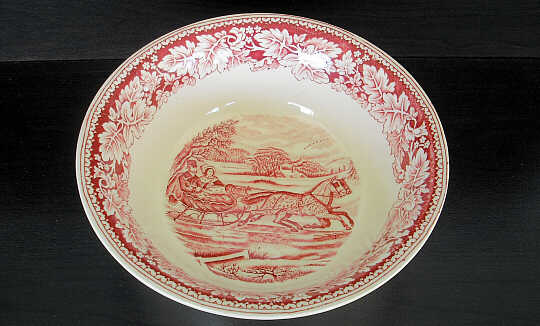 8 ½" nappy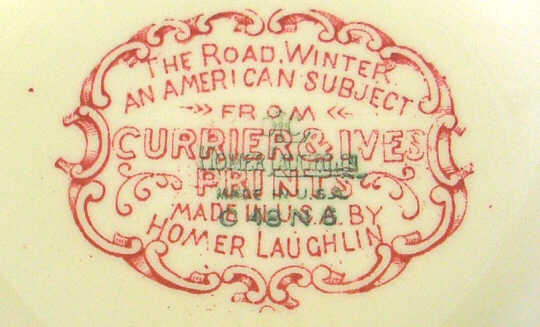 8 ½" nappy marking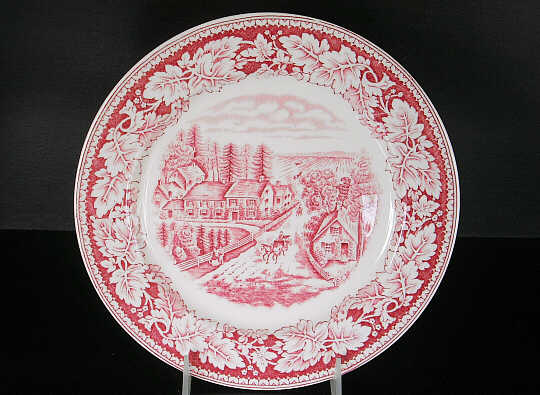 9 ½" plate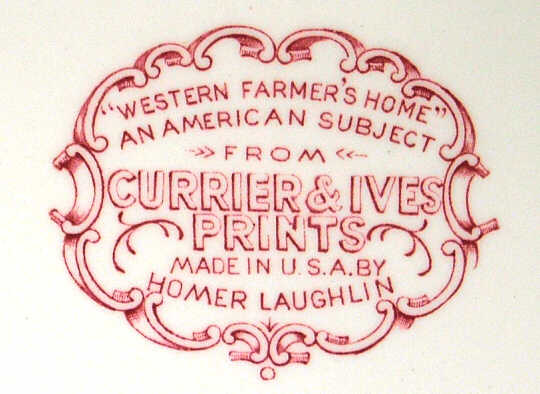 9 ½" plate marking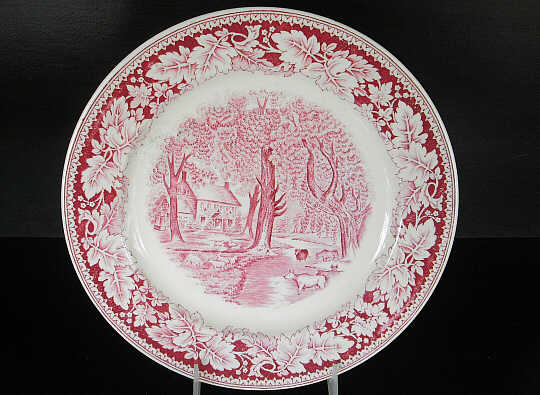 10" plate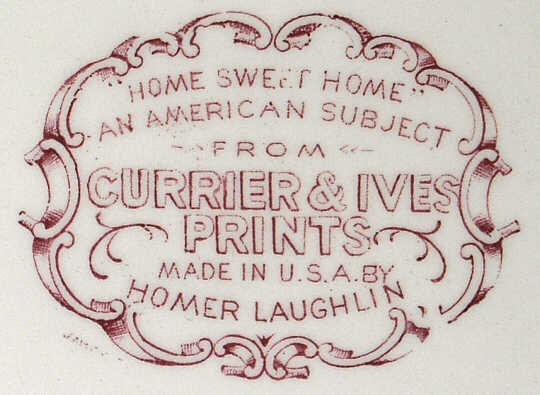 10" plate marking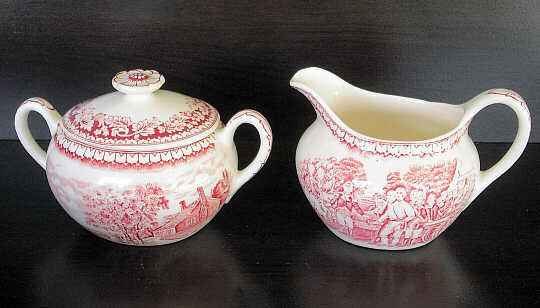 Covered sugar and creamer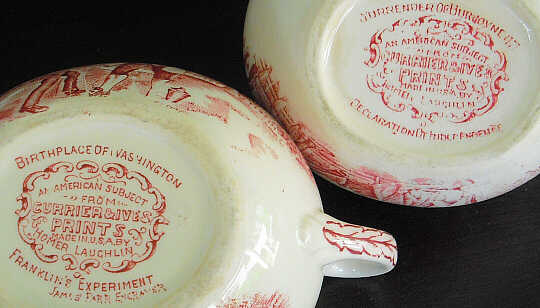 Sugar and creamer markings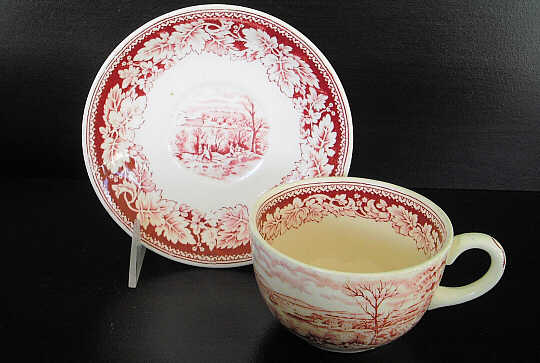 Teacup and saucer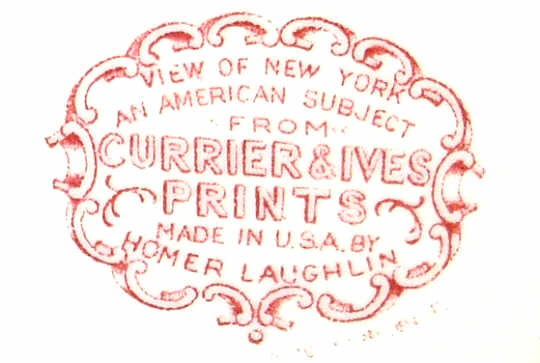 Saucer marking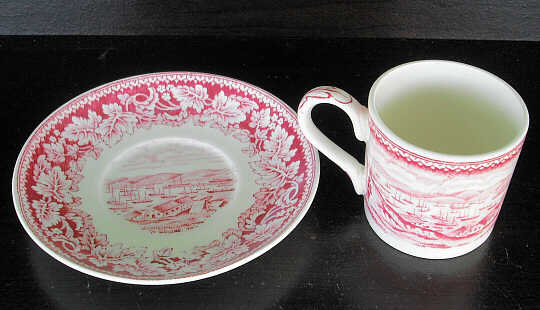 Demitasse cup and saucer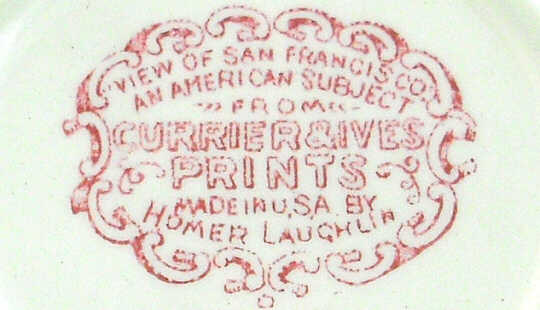 Demitasse saucer marking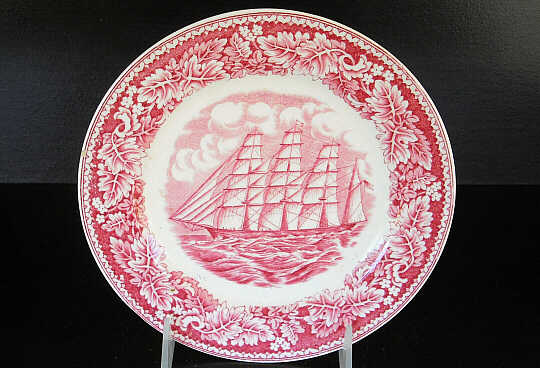 7 ¼" plate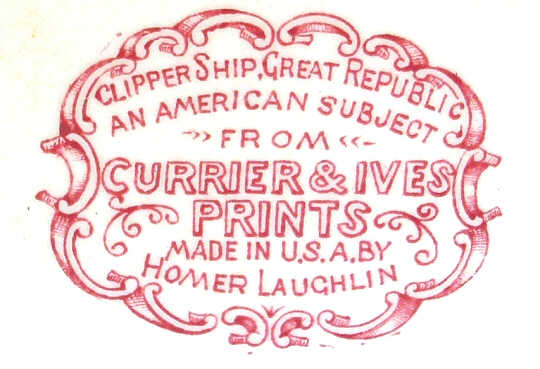 7 ¼" plate marking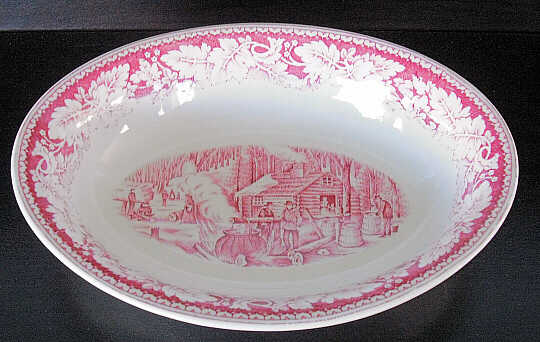 Oval baker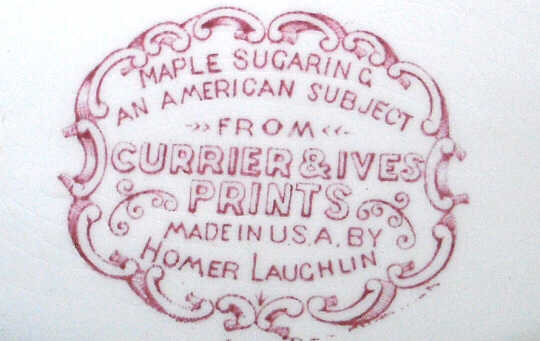 Oval baker marking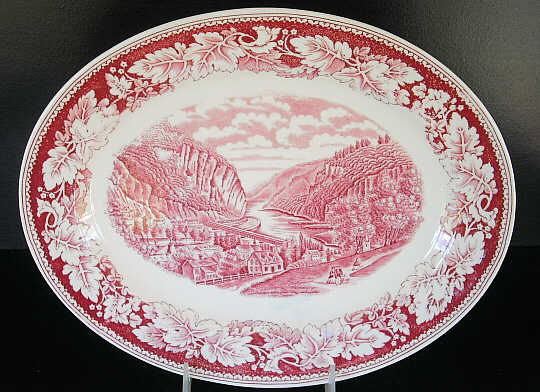 11 ¾" platter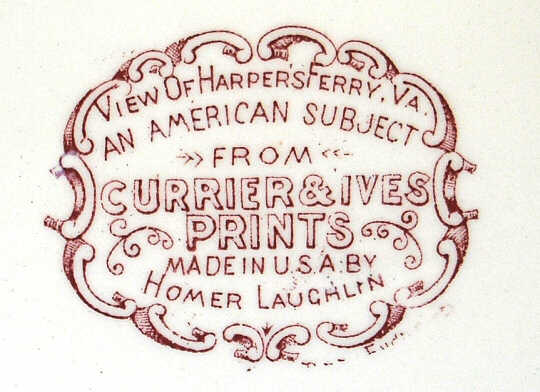 11 ¾" platter marking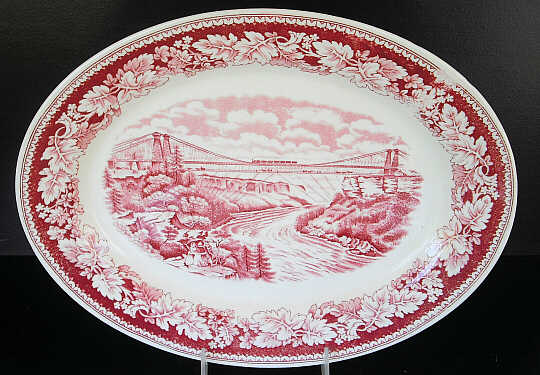 13 ⅝" platter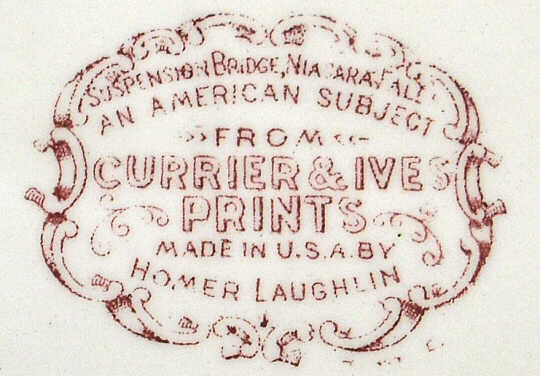 13 ⅝" platter marking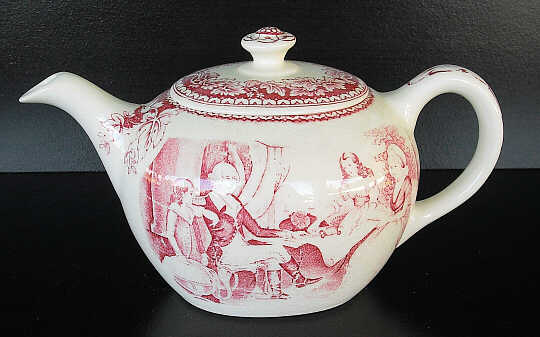 Teapot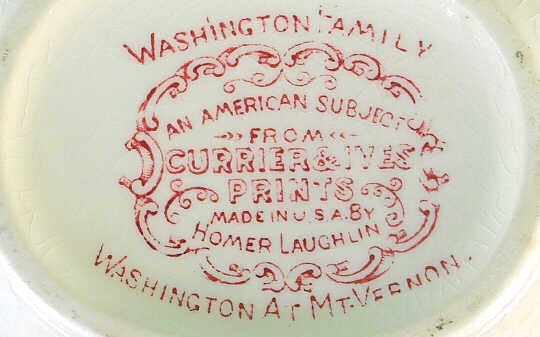 Teapot marking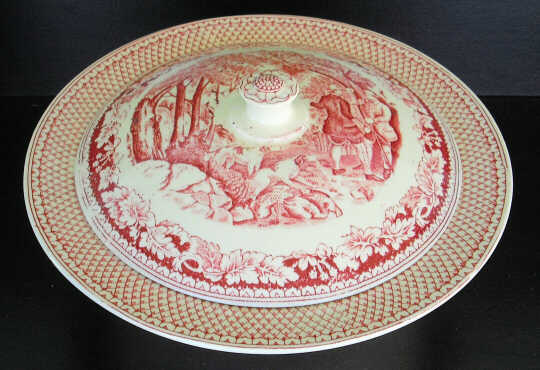 Casserole, top view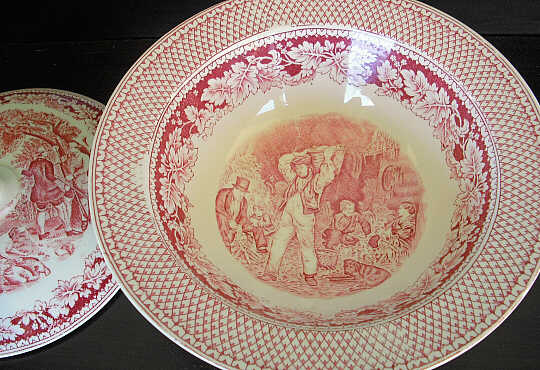 Casserole, inside view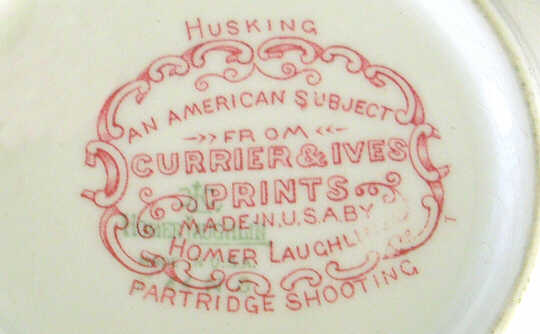 Marking for the casserole
---
Early American Homes
Another transfer design in red is Early American Homes and was produced for J.C. Penney in the early 1940s. Rhead noted working on different designs in late December 1940 and the final selection is given below. The 9" plate and platter are the easiest pieces to find. Teacups are somewhat rare. Each has a specific design and is marked in a similar manner as Americana with the subject name in the backstamp.
| | |
| --- | --- |
| 9" plate | Mount Vernon |
| Platter | Independence Hall |
| Teacup | Paul Revere Home |
| Saucer | Robert E. Lee Home |
| Fruit cup | Thoms Jefferson Home |
| Nappy | Betsy Ross Home |
| 6" plate | Abraham Lincoln Home |

Original drawing for Early American Homes
Courtesy the Homer Laughlin China Co.


Early American Homes
Mt. Vernon 9" plate


Special marking on
the 9-inch plate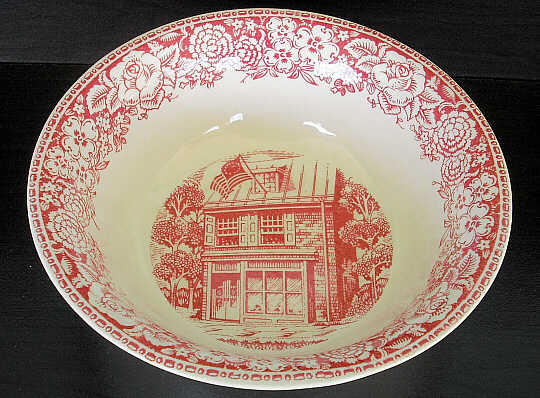 Betsy Ross Home nappy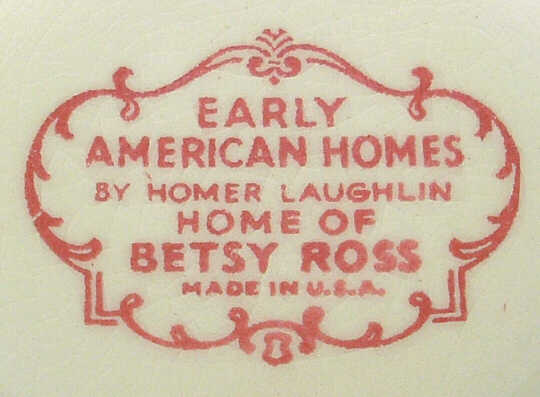 Betsy Ross Home marking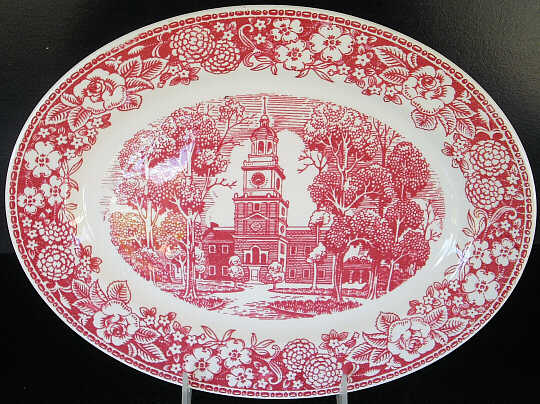 Independence Hall platter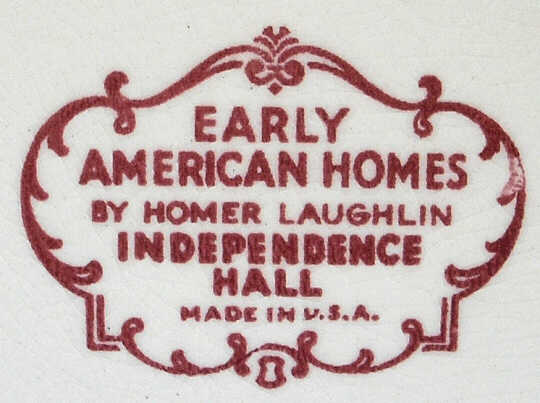 Independence Hall marking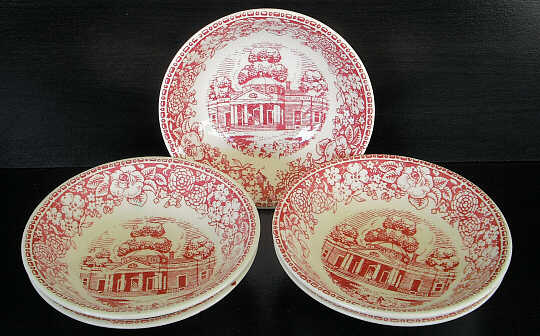 Thoms Jefferson Home fruit cups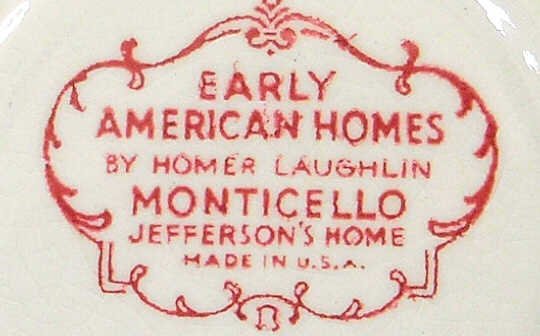 Thoms Jefferson Home marking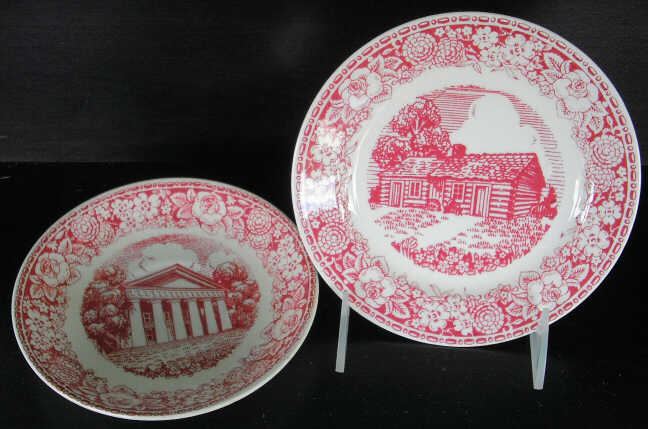 Robert E. Lee Home (saucer), Abraham Lincoln Home (6" plate)
---
Fantasy
Blue Fantasy and Rose Fantasy are two underglaze, transfer patterns form the late 1930s. The same shapes from Willow make up this line. Instead of the Empress casserole, the Wells casserole was used with a restyled lid to match the teapot and sugar lids.
| | |
| --- | --- |
| Blue Fantasy flatware | Blue Fantasy sugar and creamer |
| Blue Fantasy casserole (modified Wells shape) | Blue Fantasy teapot (modified Wells shape) |
| Rose Fantasy dinner plate | Rose Fantasy creamer, cup, and saucer |