Yellowstone by Homer Laughlin
The following originally appeared on pages 202-205 of An Overview of Homer Laughlin Dinnerware ©2002,
and is being posted on www.laurelhollowpark.net with permission along with corrections and updates.

---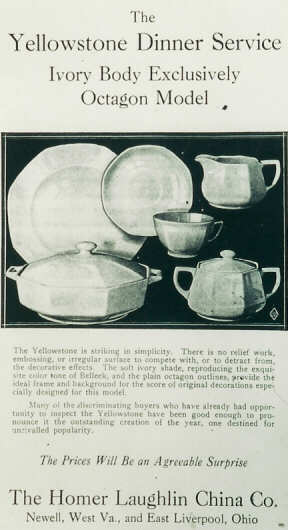 Yellowstone was introduced in 1926. Shown is a trade ad dated August 5, 1926 which best describes the design. The ad reads:
The Yellowstone is striking in simplicity. There is no relief work, embossing or irregular surface to compete with, or to detract from, the decorative effects. The soft ivory shape, reproducing the exquisite color tone of Belleek, and the plain octagon outlines, provide the ideal frame and background for the score of original decorations especially designed for this model.

Many of the discriminating buyers who have already had opportunity to inspect the Yellowstone have been good enough to pronounce it the outstanding creation of the year, one destined for unrivaled popularity.
The confident tone of the ad was well founded as the Yellowstone shape would go on to be among HLC's best selling lines for the next ten years. It would continue to be made into the late 1940s, but not in the same quantities as its peak years in the 1930s. For most of its production run, it was made in ivory and the rich vellum glaze originally developed for Century. Many stylistic floral decals popular in the late 1920s used on Newell, Empress, and Kwaker are also found on Yellowstone.

Frederick Rhead joined Homer Laughlin as art director in 1927 and made no significant changes to Yellowstone. There are at least two sugar and casserole types; one where the lids fit "into" the bases and the other where the lid extends over the base's opening. This was probably done so the sugars and casseroles could be sold as "open" pieces as well as with lids.

Most pieces are marked with a general HLC backstamp.
---
| | | |
| --- | --- | --- |
| Fruit Cup | Platter | Open Jug |
---
| | | |
| --- | --- | --- |
| | | |
| "Chianti" | Pattern W127/30 | "Fluffy Rose" |
| | | |
| --- | --- | --- |
| Golden Rose | Pastel Rose, W-132 | Gold Band |
---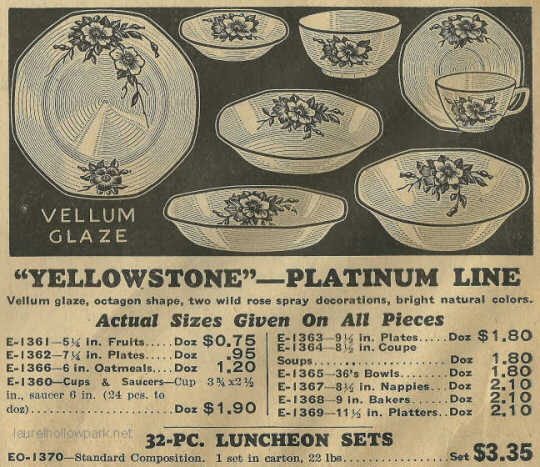 Advertisement from 1931. The decal shown was also used on the Virginia Rose shape.
---
| | |
| --- | --- |
| Maxicana soup | Pattern W127/30 Platter |
| Relish | W-132 Egg cups and 36s bowl |
---
Teacup and saucer
Coffee cup and saucer
Demitasse cup and sacuer
24s Jug
Creamer
Sugar
36s bowl
Baker
Grape fruit
Coupe soup
Covered butter
Pickle
Relish
Casserole
9" Plate
Fruit Cup
Platter
Oatmeal
Nappy
---
Assortment of Items:

7 1/2" Baker
7 3/4" Baker
8 3/4" Baker
9 3/4" Baker
30s Bowl
36s Bowl
30s Oyster Bowl
36s Oyster Bowl
Covered Butter
Individual butter
9 1/2" Cake Plate
Casserole
Coffee Cup
Coffee Saucer
Demitasse Cup
Demitasse Saucer
Creamer
Ind. Creamer
9 1/4" Platter
10" Platter

11 1/4" Platter
12 1/2" Platter
13 3/8" Platter
15" Platter
17 1/4" Platter
5 1/4" Fruit cup
5 5/8" Fruit Cup
7" Grape Fruit
12s Jug, 3 5/8 pts.
24s Jug, 2 1/2 pts.
30s Jug, 1 7/8 pts.
36s Jug, 1 1/8 pts.
42s Jug, 1 pt.
48s Jug, 5/8 pt.
6 1/4" Nappy
7 1/4" Nappy
8 1/4" Nappy
9 3/8" Nappy
30s Oatmeal
36s Oatmeal

8 1/2" Pickle
5 1/2" Plate
6 1/8" Plate
7" Plate
8" Plate
8 7/8" Plate
9 3/4" Plate
9" Deep Plate
7 3/8" Coupe Soup
8 1/8" Coupe Soup
Relish
Sauceboat
Gravy Faststand
Sugar
Ind. Sugar
Teacup
Saucer
Teapot