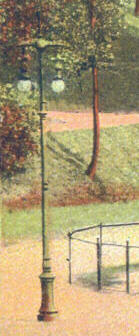 There were at least seven cast iron lampposts in the park -- four around the fountain, one at the bear pit, and two where the trolley stopped at the stone bridge. There were probably others, both in and outside of the park. The image to the right is a magnified portion of a postcard of the fountain and shows one of the lampposts with its original gas globes.

Several of these lampposts were on Homer Laughlin property and were to be recycled. Instead, they were acquired by Rex and Renee Milner who now own Joe Wells' home at 6th and Jefferson Streets. They have restored three of the lamps and plan to attach electrified globes at the tops.

There are two other lamps in Newell, both on 6th street. One is a partial and the other is mostly buried in a hillside.

The Milners recently allowed me to photograph their home and lampposts for this site. We were able to make out a very worn mark at the bottom of one which reads: THE J. L. MOTT IRON WORKS N.J. There's a wikipedia entry on the company. Some of their products include stoves, gates, fences, lampposts, and fountains.