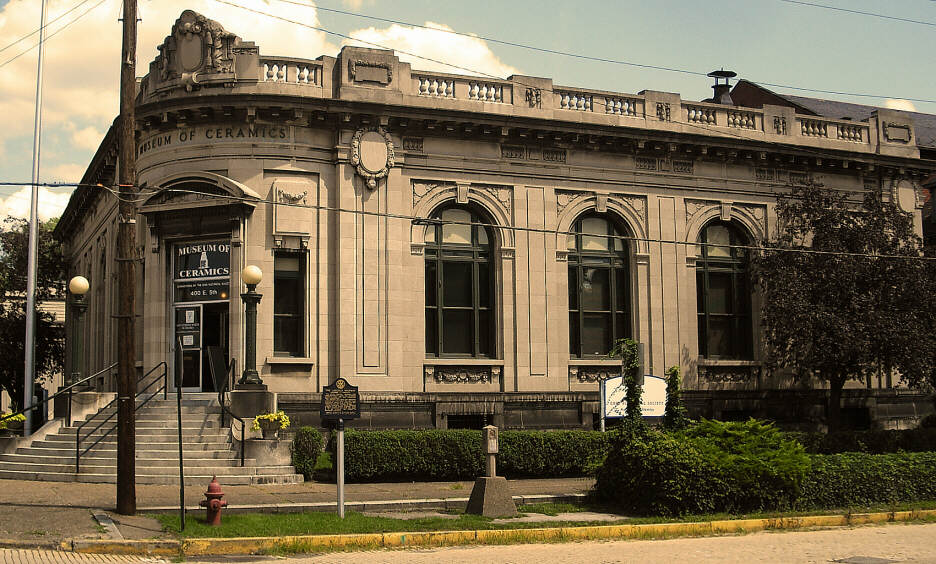 Located at 400 East Fifth Street and housed in the former post office, the museum has multiple show cases of wares made in the past 180+ years. There are also several life-size dioramas on pottery manufacturing as it looked over a hundred years ago.
According to the 1980 Pottery Festival Guide, the museum opened to the public on February 16, 1980. The guide also states:
The museum is a tribute to the ceramic industry in East Liverpool which during the 19th century was the largest ceramic industry center in the nation.

On June 19, 1979, the main floor was dedicated to the late Atty. William H. Vodrey. It was largely though the efforts of Atty. Vodrey and his family that the museum finally became a reality.
The photos below represent a small portion of the Lotus Ware and Rockingham on display as well as wares from local potteries throughout the years.

For hours, events and more information on the museum, be sure to visit their webiste at: The Museum of Ceramics
---


Some of the backstamps painted along the top of the walls.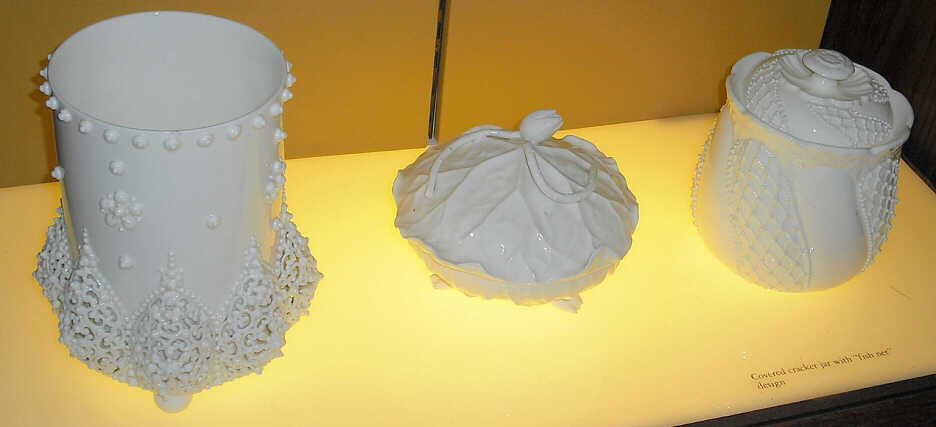 Lotus Ware vase, covered dish, and cracker jar.

Mjolica bowl with lead and tin glazes.
George Morley, circa 1885.

Homer Laughlin Danube shape teaset.
This set won an award at the 1893 World's Fair in Chicago.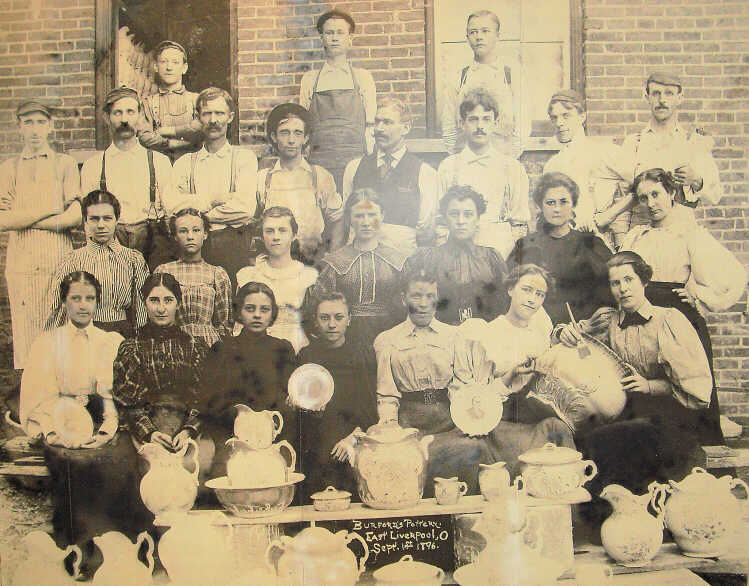 Workers at the Burford Pottery, 1896.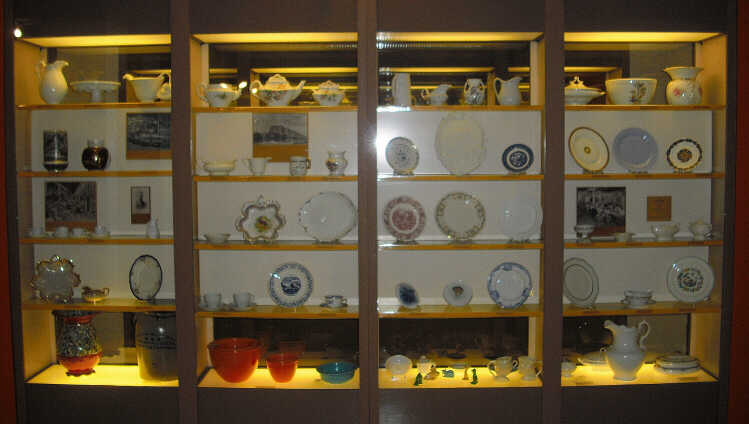 A display of Homer Laughlin wares
| | |
| --- | --- |
| Assorted Yellowware | TS&T's Vogue shape with gold trim, late 1930s. |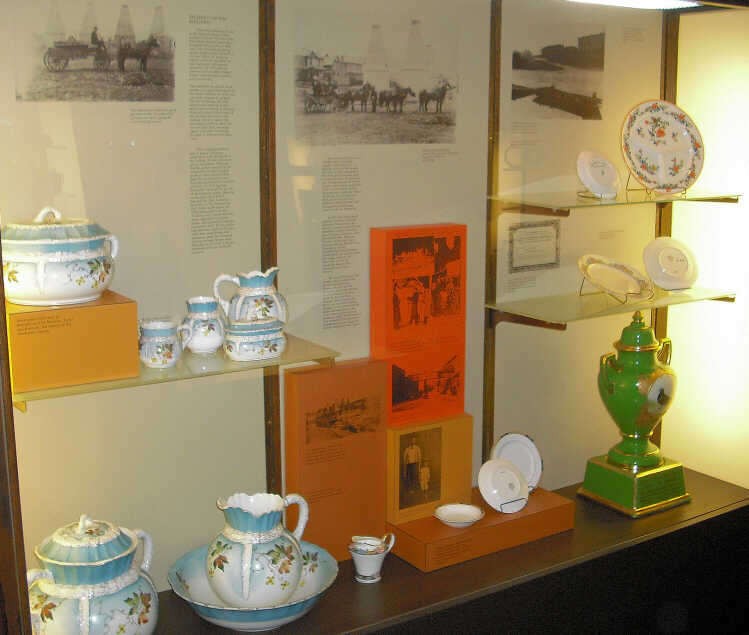 The green urn at the right was made by Harry Bowler at Hall China.
It was one of about four pieces to commemorate racing pigeons.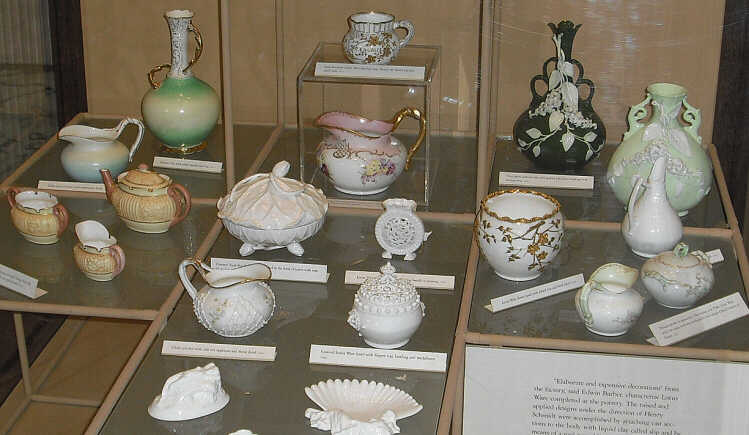 Just some of the many pieces of Lotus Ware on display.
Left: George S. Harker Toby Pitcher.
Right: The yellowware water cooler was made by Harker, Taylor & Co. (1846-1851) Decorated in marbleized slip, it stands 21 1/2" tall.
Display cases on the main floor(left) and basement(right).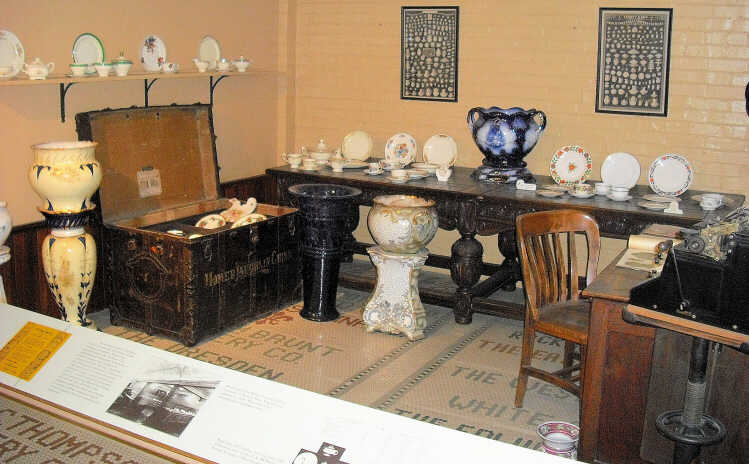 Recreating a sample/salesman's room. The floor seen here is a mosaic tile listing of potteries from the very late 1800s/early 1900s. It was originally in the lobby of the Thompson Hotel. The salesman's trunk belonged to George Clarke who played a large part in the success of Homer Laughlin China as well as the creation of Laurel Hollow Park.
Left: Large Knowles' presentation piece, circa 1930. I know of two others - one in pink and one in green galzes commonly used during the Depression era.(*)
Right: Homer Laughlin's Fiesta relish tray with metal holder. Below the tray is a Taylor, Smith & Taylor Laurel shape casserole with gold decoration, #600.
---
References:
Stradling, J.G., "East Liverpool, Ohio: an American pottery town." The Magazine Antiques, June 1982, pp 1366-1373
Ramsay, John, "East Liverpool vs. Bennington." The Magazine Antiques, January 1946, pp42-44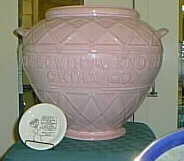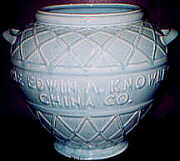 (*) Here are pictures of the other two Knowles pieces in solid color glazes.
They are in private collections.