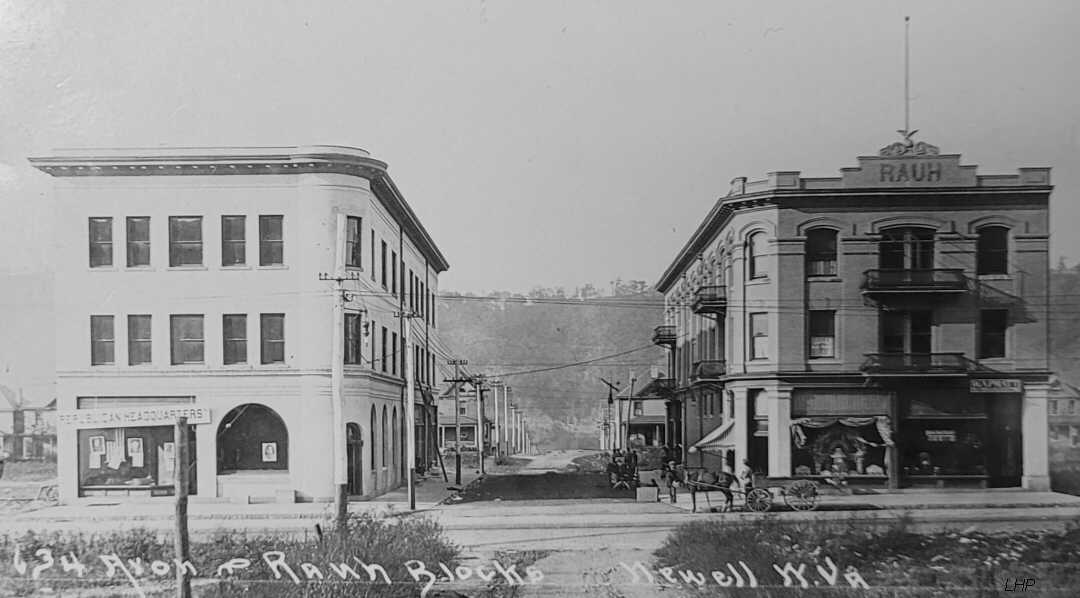 The brown brick Rauh Building (446 Washington Street) and the white brick, fireproof Aaron Building (500 Washington Street) were completed by 1908. The Aaron building has been torn down, but the Rauh building still stands.

The Aaron building was primarily for offices whereas the Rauh building had grocery and drug stores. Before the schools were built, classes were held in the Aaron building. It also had offices for The Newell Bridge & Railway Co., Lawerence Cooperage, and The Newell Company. The first Presbyterian and Methodist services were also held here at different times before their respective churches were constructed. Eventually, the back part became the post office and the front a laundromat.

The Rauh building had a drugstore in the back part -- first owned by Dr. Turk, then Mr. Stewart, and finally by Sam Carnahan. Recently, the front was used as an appliance store, but previously it was Thornberry's Grocery and Gates Butcher Shop.

These buildings were named after the Rauh brothers and the Aaron family. Both families were from Pittsburgh and part of the North American Manufacturing Company -- the firm which built the Homer Laughlin plants in Newell and the town itself.