Newell Volunteer Fire Department
---
Three vintage postcards showing the first fire department in Newell located next to the Presbyterian Church.
Left: Newell Volunteer Fire Department photo from a Wells High School 1957 Rhododendron yearbook.
Right: The Newell Volunteer Fire Department on Washington Street.
---

Fire department on Washington Street before its expansion.
---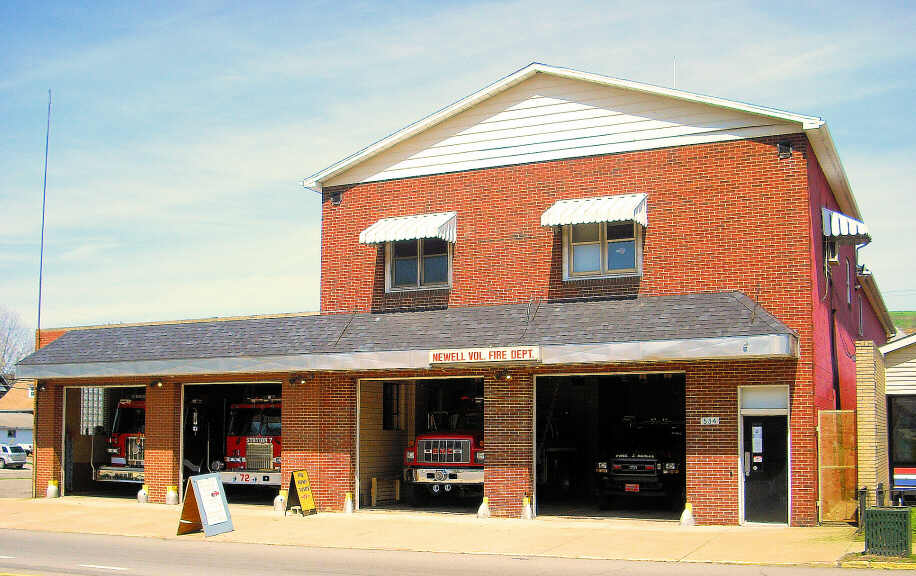 ---
The top two photos show the old fire department that still stands at the corner of 6th and Harrison Streets. At one time, it had a large bell tower at the back, but it has since been removed and the building itself has been boarded up.

This brick structure must have replaced the original wooden version that sat next to the Presbyterian Church.

On one side there is the remains of a Turley Funeral Home advertisement.
---
Fire Department, circa 1910.

Left to right: Abel Edwards*, Alvin Fisher*, William Maley*, Will Herron, Homer Ruff, Clarence Laughlin*, Vern Mayley (boy), William Cross*, Dan Sheckler*, Jack Bossen, Enoch Moon*, unknown, Edwin Betteridge, Edward Wilson*, Albert Kraft, and Jack Myler.

Names marked with an asterisk were part of the original organizers of the first fire company from February 27, 1907.
---
On Tuesday, April 23, 2013, local fire departments honored William "Bob" Duncan Jr., a former member of the Newell Volunteer Fire Department, who had passed away the previous week.

Shown are some of the fire trucks at the Nixon Funeral Home in Newell. The American flag was hoisted by East Liverpool, OH and Chester, WV fire trucks. Also represented were Lawrenceville, New Manchester, New Cumberland of West Virginia, Liverpool Township of Ohio, as well as Hookstown, Midland, and Hanover of Pennsylvania.
---
---
Bob Duncan sends this message along with additional pictures:
I'd like to thank you for the posts and photos you put on your site of my fathers funeral. He was proud of his little small town and proud to have served them in the capacity of the fire dept. My father was a wonderful man who always put other people's needs before his own. Even when he faced death and his family knew he was in pain, he refused to show it simply because he did not want us to worry about him. This is the attitude he always had. Whether it meant using his vast mechanical skills to repair someone's car and not even think about charging them a dime, or serving the community with the fire department, he was sure to put other people's needs first. This world could use a few men like him. I was very proud and honored of the services that were given to him by the area fire departments, police, first responders, and the Tri State Burial group that took the time out of their day and time away from their families to participate in his service.
Photos below are courtesy Bob Duncan's family.
| | |
| --- | --- |
| | |
| | |
| --- | --- |
| | |