Cameron Clay Products
LaurelHollowPark.net, an informative website created and
maintained by Mark Gonzalez. Copyright © 2009-.
---
Cameron Clay Products of Cameron, West Virgina made small art ware and kitchenware from the 1930s to the 1950s. This page focuses on three of their lines: Sevilla Pottery, Royal Cuisine, and Dutch Tulip.
Sevilla Pottery
For many years there has been confusion as to who made the Sevillla line of pottery. Lois Lehner notes in her book, U.S. Marks on Pottery, Porcelain & Clay, that Sevilla earthenware was made for the J. and L. Block Company, a distributor out of of New York. She also notes the Sevillla marking was filed for registration in February 24, 1938 by the Cronin China Company of Minerva, Ohio. Jo Cunningham wrote in the book American Dinnerware that Dan Cronin and J. Block were friends and that the Cronin China Company made pieces for the Block Company. The practice of two or more potteries making wares for the same customer is not unheard of. For example, several potteries would work together to make wares for Quaker Oats.
The following 1938 New York advertisement shows the Zephyr shape line of dinnerware made by Cronin and kitchenware made by Cameron, all sold under the Sevilla name and distributed by Block. It is the combination of these three companies and shared trade names that has sparked confusion among pottery collectors and authors for some time. In almost every instance, the Cronin China Compnay has gotten full credit, however, in recent years it has become clear that Cameron Clay Products played a much larger role in the production of Sevilla and other kithenwares.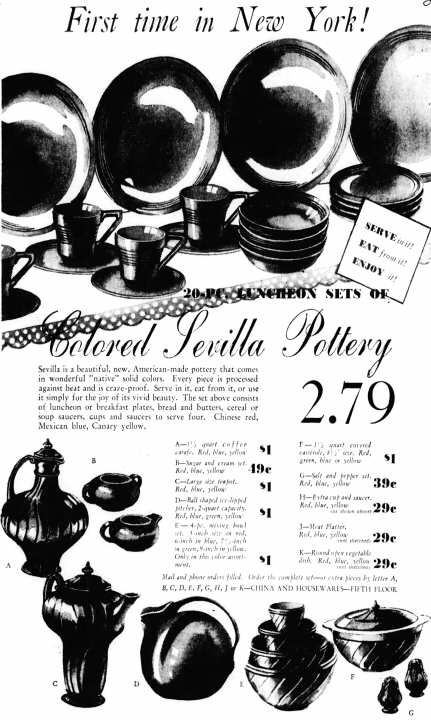 Cameron's Sevilla line started out with a wide assortment of kitchenware. Some pieces were left plain, but others were modeled with different designs including rings and swirls. Soon after 1938, Sevilla grew to include art pottery with vases and novelty ware in solid colored glazes, Colors changed over the years, they include:
Medium blue
Green
Cobalt
Maroon
Red (a red on white/ivory glaze)
Yellow
White
Brown
Dark Green
Turquoise
Pink
Gray
The red color, also called tangerine, was sprayed over a clear glaze. Interiors and undersides of pieces will have the exposed clear or ivory glaze. Most larger pieces will be marked with a cast mold marking of either Sevilla or Bake Oven. Smaller items generally have an unglazed "dry" underside. Some items have turned up with Sevilla foil stickers. Small pieces may be marked USA.

Not only did both potteries use the Sevilla name, they also used almost identical "BAKE OVEN" markings on kitchenware. Cameron's will often have an added USA and Cronin's will sometimes have an overstamp in gold.

After 1954, the Sevilla line was phased out in favor of more modern shapes and glazes in the form of Royal Cuisine and Dutch Blue ovenware.

There is one more piece to the Cameron, Cronin, and Block puzzle that should offer final resolution. According to this article dated October 1, 1964, Cameron Clay Products, in its capacity to produce semi-vitreous wares, was founded by Dan Cronin. The same Dan Cronin of the Cronin China Company, who also happened to be the brother-in-law of Mr.s Arthur Wells of the Homer Laughlin China Company in Newell, West Virginia. Shared glazes. Shared markings. Shared credit. It is no wonder that so many, myself included, have been confused all these years.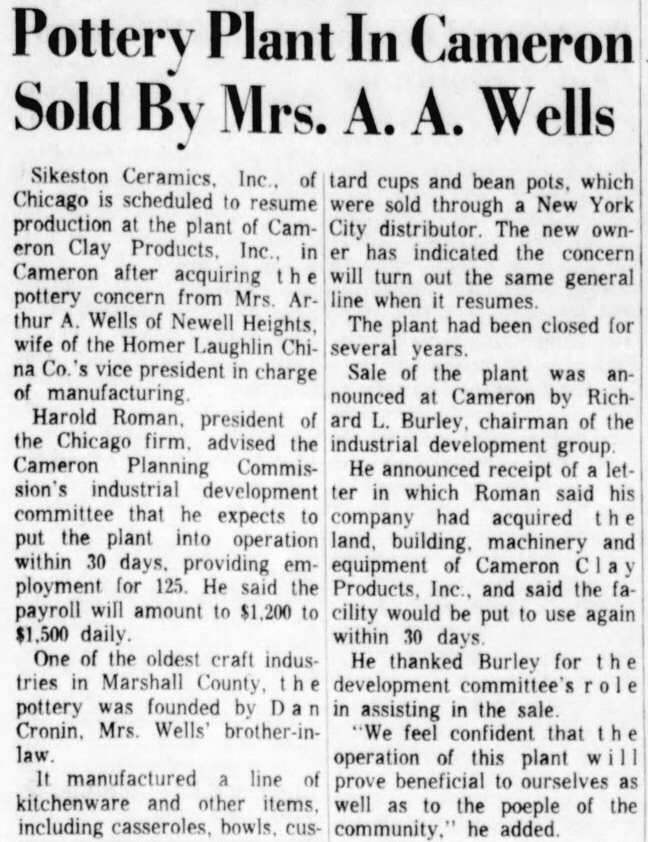 ---
| | |
| --- | --- |
| Bake Oven mark used by Cameron | Bake Oven mark used by Cronin |
Examples of Sevilla art pottery and kitchenware made by Cameron Clay Products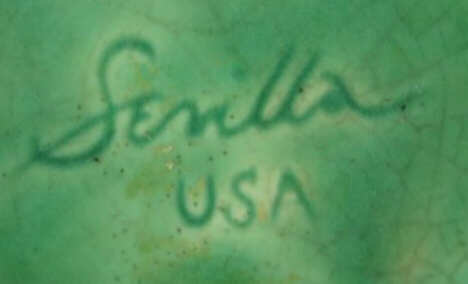 Sevilla mold mark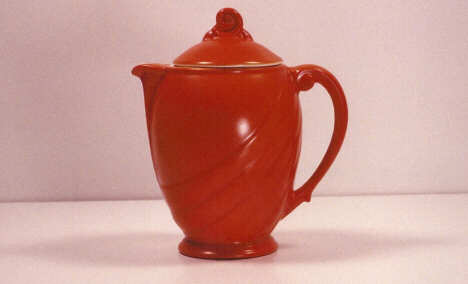 Teapot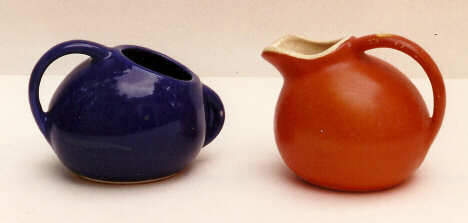 Ball sugar and creamer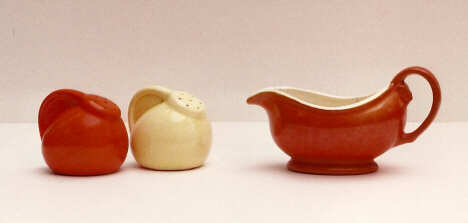 Shakers and creamer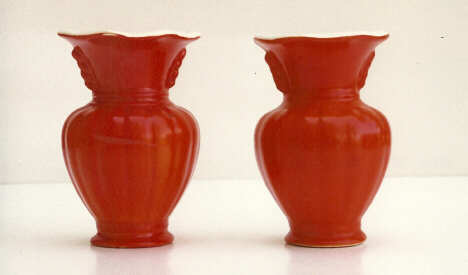 Vases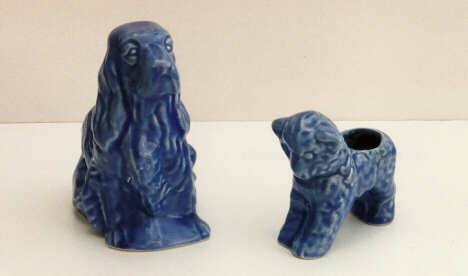 Spaniel and lamb planters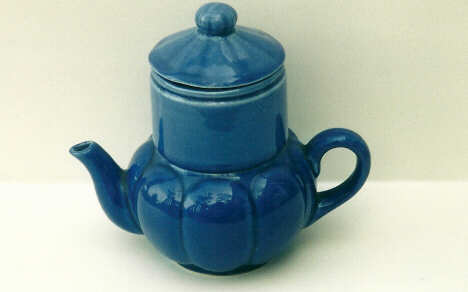 Teapot and dripolator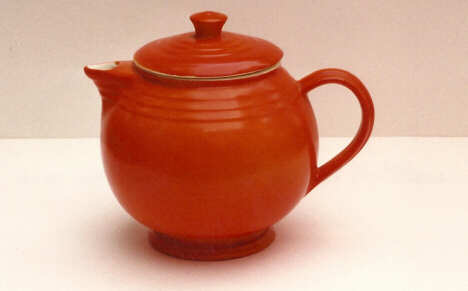 Ring teapot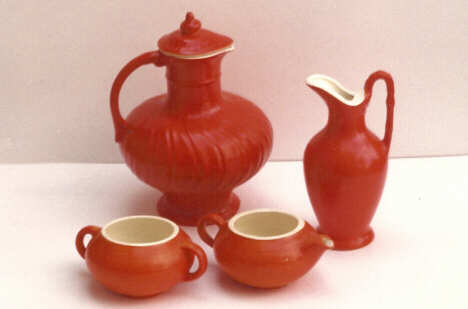 Sevilla in red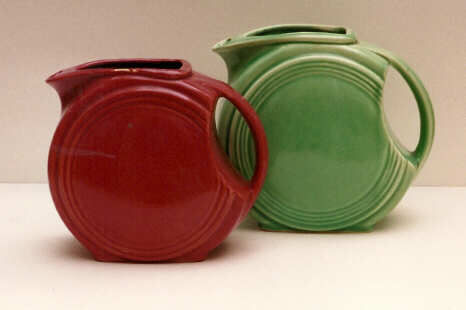 Disc pitchers, similar to HLC's Fiesta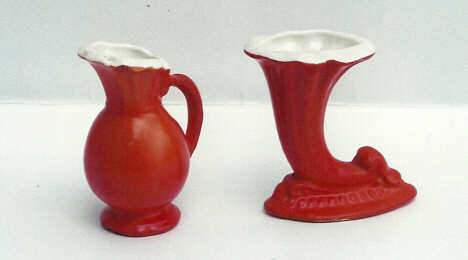 Small novelty ware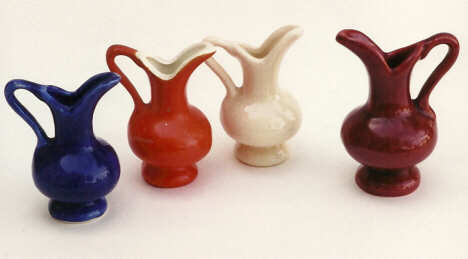 Small novelty ware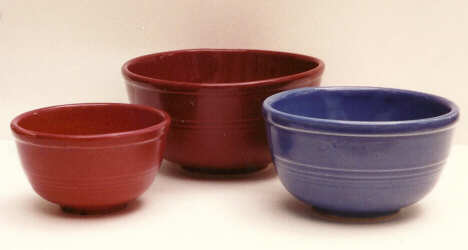 Mixing bowls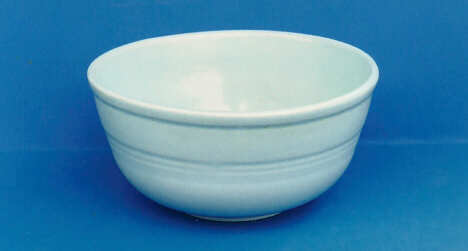 Turquoise mixing bowl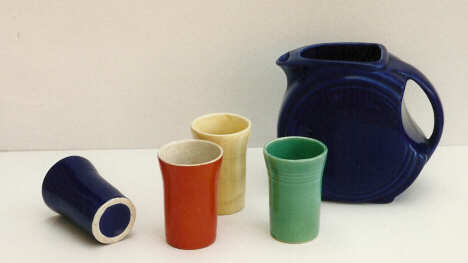 Juice set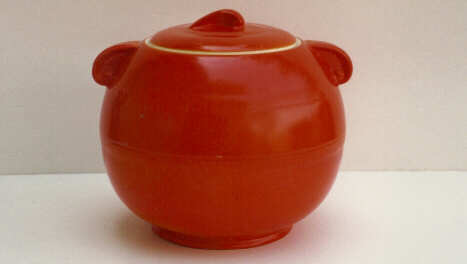 Ring cookie jar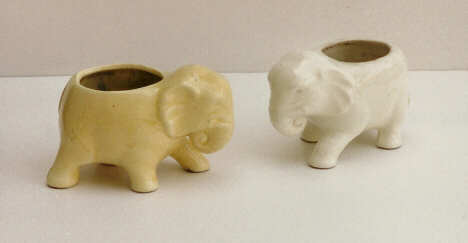 Elephant planters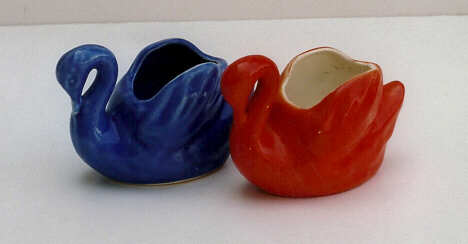 Swan planters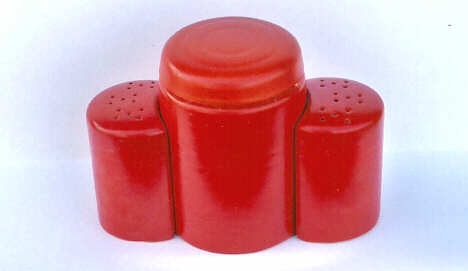 Range set in red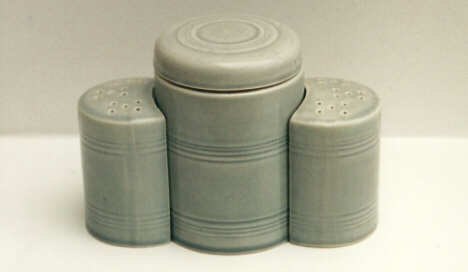 Range set in gray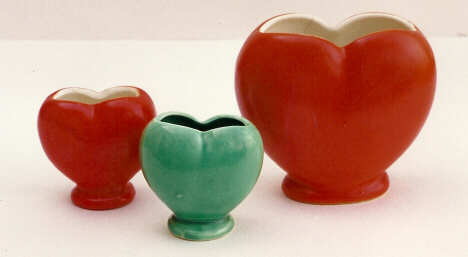 Heart vases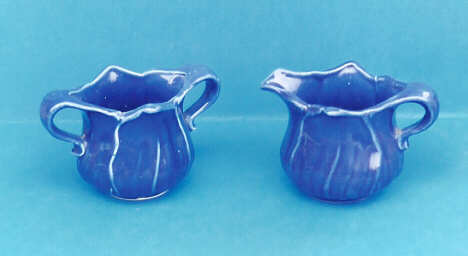 Leaf sugar and creamer
---
| | |
| --- | --- |
| 1940 ad | 1944 ad |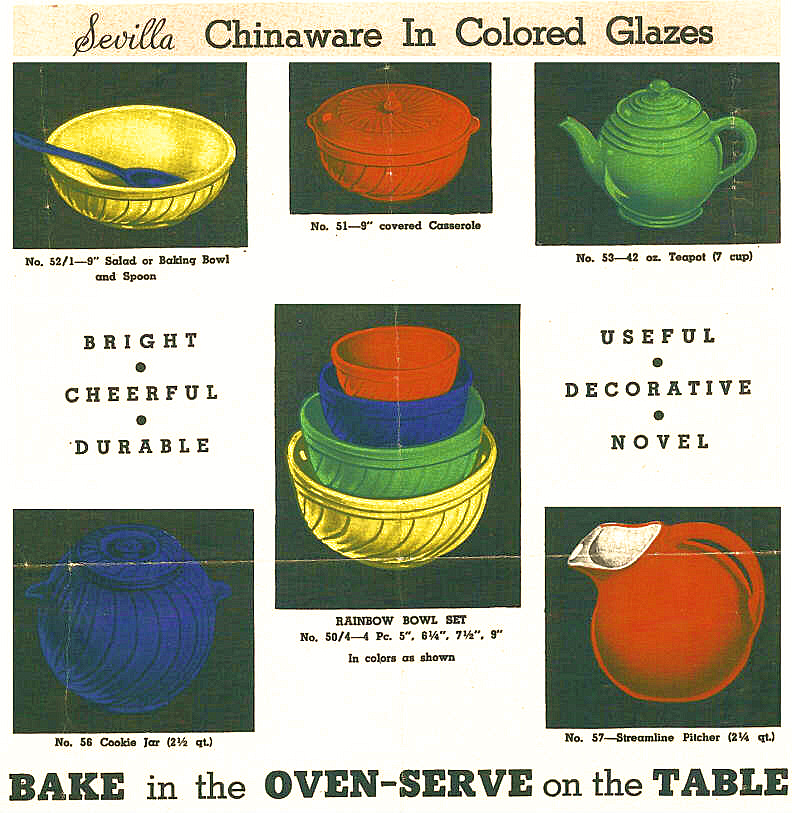 Late 1930s ad
---
Royal Cuisine and Dutch Ovenware
In the 1950s and early 1960s, Cameron Clay Products of Cameron West Virginia produced several lines of kitchenware. The first, "Royal Cuisine", was made up of simple round shapes and glazed in various two-tone colors. Royal Cuisine was sold primarily in department stores across the country. Just some of the many two-color combinations include; black/pink, turquoise/coral, burgundy/gray, green/pumpkin, green/yellow, and turquoise/black. Of these, the most common colors found on the collector market today are black/pink and green/yellow. Pieces that didn't get a lid such as the ball pitcher, 10 and 20 ounce jugs, carafe, and the creamer were glazed in a single color.
---
| | |
| --- | --- |
| 1954 advertisement | 1957 advertisement |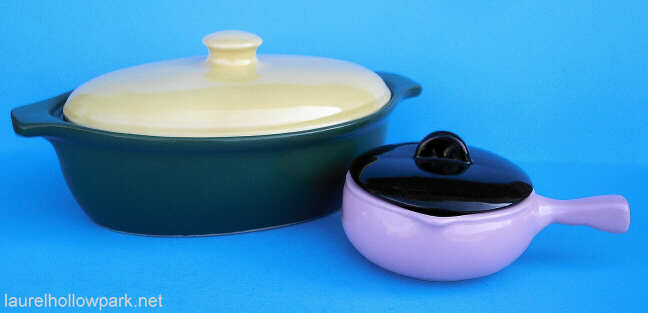 "Royal Cuisine" oval baking dish (green/yellow) and French casserole (pink/black)
---
The second line was Dutch Ovenware which came in at least four variations; turquoise with blue tulips, yellow with brown tulips, yellow with blue tulips, and pink with blue tulips. Turquoise with blue tulips is by far the most common. For many years it has been called "Blue Tulip" which was coined by pottery author Harvey Duke, however, the proper name for this particular line is "Dutch Blue." As for the yellow and pink versions, I've not been able to find an official name so for convenience, I will refer to them as Dutch Yellow, and Dutch Pink. Whereas Royal Cuisine was sold in department stores, Dutch Ovenware was sold in supermarkets. Two of the largest carriers were A&P and Acme Markets.

A third line, Scandia, was made up of slightly flared conical shapes with bases in solid colored glazes and lids in contrasting white. It is usually found in yellow, turquoise, and pumpkin.

Most Cameron kitchenware will be found with a USA marking in the mold -- either raised or impressed. Some pieces can be found with a "BAKE OVEN" mark which has caused great confusion since the Cronin China Company also used a very similar Bake Oven marking. Avid Cameron pottery collectors (see their facebook page here) have found molds and shards near the old pottery confirming Cameron was in fact the maker of this kitchenware as well as other lines. If vintage advertisements are any indication, Royal Cuisine was made from 1954 until 1959, and Dutch Ovenware from 1958 until 1961. The Cronin China Company closed in 1956 when it was sold to a tile manufacture. Given the archeological evidence and the ad's dates, it is unlikely the Cronin China Company had any involvement in either Royal Cuisine or Dutch Ovenware. However, the two did have close ties when it came to Sevilla.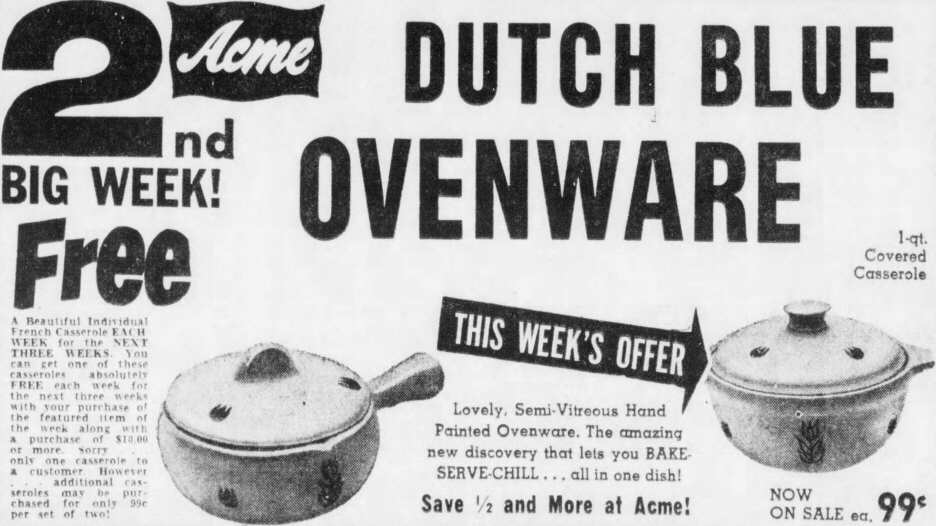 1960 advertisement for Dutch Blue
| | |
| --- | --- |
| "Dutch Blue" Teapot and ball Jug | "Dutch Pink" French casserole |
| | |
| --- | --- |
| Typical USA marking | "Dutch Yellow" Casserole |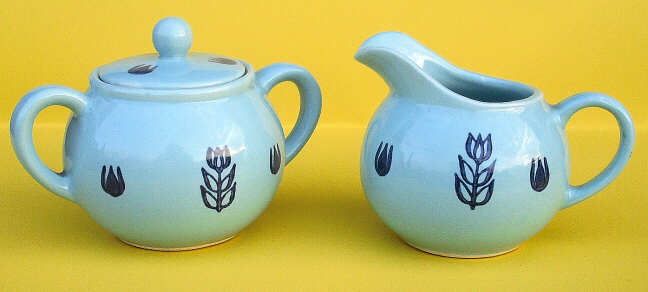 "Dutch Blue" Sugar and Creamer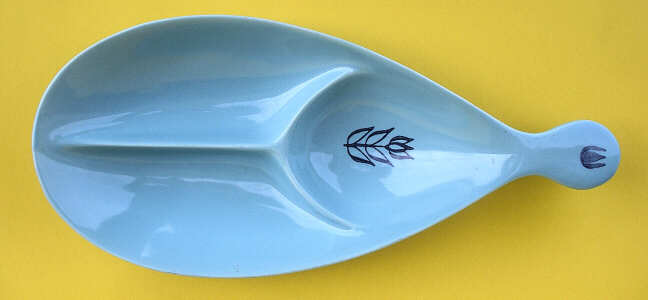 "Dutch Blue" 3-part relish, 13" long.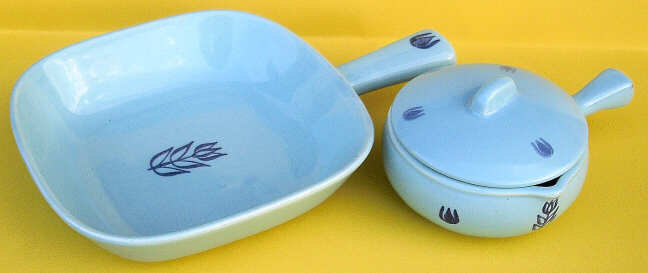 "Dutch Blue" Skillet and French casserole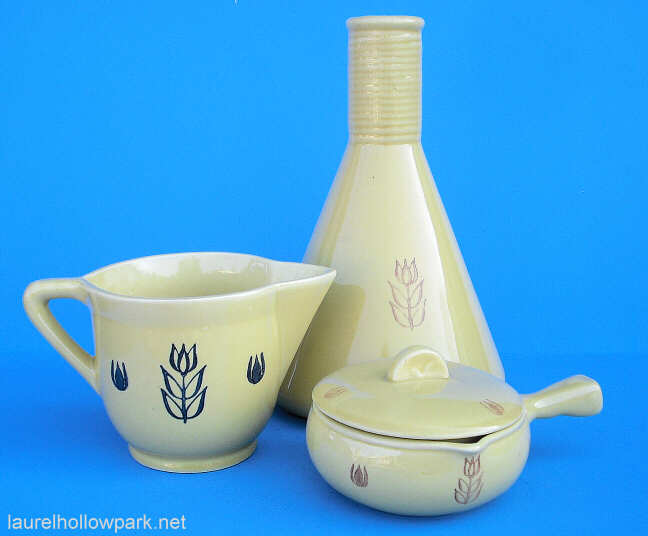 "Dutch Yellow" jug (with blue tulips), carafe, and French casserole (with brown tulips).
---
A line of cast iron cookware with colored enamel was imported to the United States from the Royal DRU-Iron company out of Holland. This kitchenware was decorated with either hand-painted windmills or tulips and was clearly the inspiration for Cameron Clay Products' line of Dutch ovenware. There are multiple DRU-Iron advertisements and other ephemera that predate Cameron's version by several years. DRU-Iron pieces can be found in blue, green, and yellow. They generally are more expensive than their Cameron counterparts.
1957 Advertisement for Royal DRU-Iron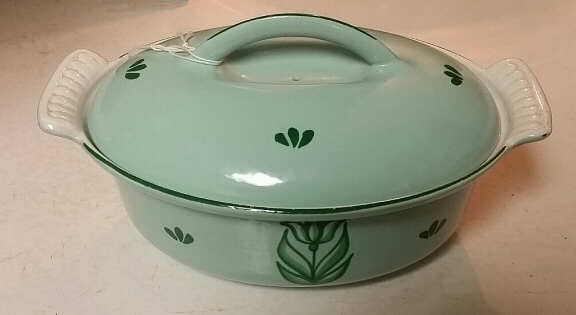 Royal DRU-Iron casserole in green.