Crown Potteries of Evansville, Indiana produced dinnerware from the very late 1800s until the mid-1950s.
---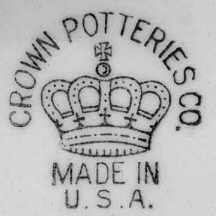 The following on Crown Potteries appeared in the Citizens Historical Association of Indianapolis on October 19, 1940:
The Crown Potteries Company is the outgrowth of the Bennighof-Uhl Potteries Company, successors to the Evansville Pottery Company which was founded in 1879 by two brothers, August and Louis Uhl, who were manufacturers of stone ware. About 1893 the Bennighof-Uhl Potteries Company was founded with Henry Bennighof as president, Charles Uhl, secretary-treasurer, and Henry W. Flentke, general manager. Mr. Flentke, who moved to Evansville from [East] Liverpool, Ohio, was experienced in the manufacture of white and decorated tableware. After he became associated with the company, the manufacture of stone ware was discontinued, and porcelain was manufactured exclusively.

The Crown Potteries Company was incorporated in 1902, since which time the business has expanded continuously. Buildings have been added, and new machinery has been installed. When natural gas was piped to Evansville in 1933, continuous tunnel kilns, made by the Ladd-Cronin Engineering Company of Lockport, IL, were installed. In 1934, a Ladd-Cronin circular gloss tunnel kiln was installed, as well as a decorating circular tunnel kiln, made by the Holcroft Engineering Company of Detroit, Michigan. The pottery is placed in the likn at a temperature of 2,200 degrees Fahrenheit, is tapered down as it progresses in the tunnel, and comes out thoroughly baked, ready to be smoothed, polished and glazed. The clays used in the manufacture of the pottery are obtained from Georgia, Florida, Kentucky, and England. Spar is shipped from North Carolina, and flint from Illinois.

The Crown Potteries Company, which is one of the leading industries of Evansville, employs 220 persons. The firm maintains their own sales organization, and the products are sold throughout the U. S.
---
In 1980, author Jo Cunningham wrote to Mrs. Charles (Clara) Boyer. Mrs. Boyer was secretary to John Wendt, president of the company. The following, dated February 6, 1980, is what Mrs. Boyer wrote back:
Dear Ms. Cunningham:

I don't know whether any of the information listed below will be of any help to you or not. I started working at the Crown Potteries Co. in 1930 and left in 1945. I enlisted help from Miss Althea Mayes who worked in the office with me during those years. She worked at Crown until 1955 at which time I believe they went out of business.

There were no catalogs published on their ware as far as I know. All sales were made from sales carried by their salesmen. Their line was semi-porcelain dinnerware and decorations were put on with decals. Gold or silver lines and color borders or lines were put on by hand. Each January a number of new decorations were put out and a smaller number in June of each year. The different patterns were not named, but carried numbers only.

Here is a list of some of the shapes that were made plus specialty items:

Jewel
Princess
Royal
Sovereign
Majestic
Countess
Regent
Althea
Colonial Dames
A line of oven ware, such as pie plates, nappies (bowls), syrup pitchers, salt and pepper shakers
A line of heavy white ware used by hotels, restaurants, institutions, clubs, and organizations of different kinds. Some times clubs would want their emblems or names put on the different items or perhaps a color line or band.
A line of white ware of a weight between dinnerware and hotel ware, which was called Cable.
The Princess shape was mostly used in plain white.
Fancy salad bowls, cake plates and servers, tea pots, salad plates, and juvenile items.
At one time I remember vases in the shape of a cornucopia were made, but think that was for a short period.
Shorty after the Fiesta line of colored dinnerware was brought out by another pottery [H.L.C.Co.], Crown brought out a line in green, blue, tangerine, and brown.

I sincerely hope, Ms. Cunningham, some of the above will be of help to you. I am sure there is no literature of any kind to be found on the Crown Potteries Co. anymore. When I worked there quite a few of the employees were rather old and had worked for the company for years and most of them has passed on since then.

Sincerely,
Mrs. C. T. Boyer
---
Below are Crown Potteries Advertisements from the 1940s and 1950s.