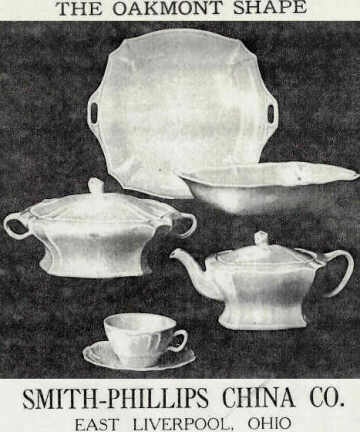 The Smith-Phillips China Company was founded by Josiah T. Smith and William R. Phillips in 1900 after purchasing the French China Company on Michigan Ave in East End of East Liverpool, Ohio. They produced semi-vitreous (or semi-porcelain) dinnerware, toilet ware, and hotel ware. Most pieces can be found with a backstamp. Those from the 1920s will often have a date code. To the right is an advert for Smith-Phillips' Oakmont shape from 1927.

In 1929, Smith-Phillips merged with several other potteries[1] to form the American China Corporation. After the American China Corporation declared bankruptcy, Smith-Phillips was reorganized as Johnson Pottery which itself failed during the Great Depression. [2]

In 1937 a portion of the pottery was used by the Specialty Porcelain Works which was previously located in Newell, West Virginia and owned by Oscar Bock. The other portion, owned by Chris Horton and his son Charles, was the Horton Specialty Co. which made porcelain wash basins and novelty ware. In October 1939, a fire burned the Horton Specialty portion, but a fire wall saved the Specialty Porcelain Works. [3]

By the early 1950s, the property had been sold to the Dacar Chemical Products Company. In a 1952 listing, Dacar is noted as being owned by N. J. Datesh and J. N Datesh. Today, Dacar is based out of Pittsburgh, PA. As of this writing the old Smith-Phillips building, which had not been in use for several years, is being torn down.
---
[1] The other potteries were Carrollton Pottery, E. H Sebring Co., French China Co., Knowles, Taylor & Knowles Co., National China Co., Pope-Gosser China Co., and the Saxon China Co.
[2] The Official Price Guide to Pottery and Porcelain, 8th Edition, Harvey Duke, 1995.
[3] The Evening Review, October 14, 1939.