Made by Shawnee Pottery Company of Zanesville, Ohio
Sold exculsively through Sears Roebuck and Co.
Swirl shape
Produced in 1938 to circa 1940
Made in solid colors:

Tangerine
Cobalt
Yellow
Green
Maroon
There seems to be some controversy over the exact assortment of Valencia. Vintage pamphlets with drawings show Valencia as a direct copy of Fiesta's original assortment with Kitchen Kraft equivalents -- 70 pieces total with some items sounding very familiar to Fiesta collectors: 8", 10" and 12" flower vases, mustard, marmalade, 2 pt. jug, 7 pc. nested bowl set, ice pitcher, tripod and bulb candleholders, footed salad bowl, carafe, utility tray and so on.
Author Harvey Duke questioned if some of these were actually put into production since many were not featured in photographic ads or price listings and the pieces themselves have yet to be found.
---
Red covered carafe

Maroon ball jug
Courtesy: Judith Stout
Valencia in four colors
Courtesy: Candy Fagerlin

6-pc. Relish Tray
Courtesy: Fran and Carl Stone
Waffle set

Top row: Ball jugs, shakers
2nd row: Assorted bowls, tumbler, casserole
3rd row: Mixing bowls, egg cup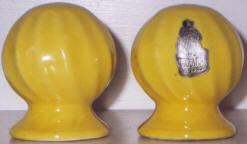 Shakers with an original label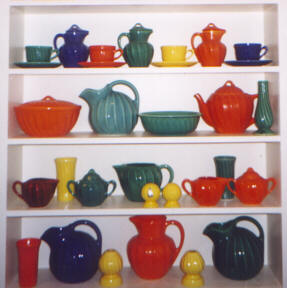 Top row: Syrups, cups and saucers
2nd row: Covd dish, ball jug, nappy, teapot, bud vase
3rd row: Creams, sugars, shakers, tumblers, 32-oz pitcher
4th row: Tumbler, Ball jugs, bulb canldesticks, batter jug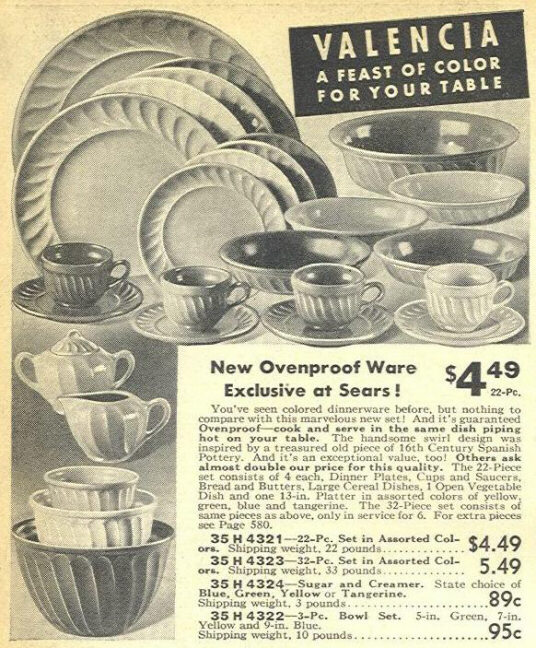 1938 Valencia AdCourtesy: Fran & Carl Stone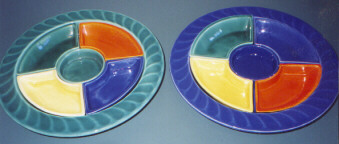 A pair of relish dishes in mixed colors
Courtesy: D. Abel
Valencia Photos Courtesy: Dominick Abel

Maroon shakers with hand-painted flower decoration and yellow shakers
with an original sticker. Dominick says, "...Shawnee pieces are often found with
hand-painted decorations of this sort, especially Shawnee miniatures, but I have
never before seen a piece of Valencia decorated this way."
Left: hard to find Valencia dancers in red
Right: Updated collection pic.
Left: very hard to find 9" plate in burgundy
Right: Direct scan of the plate with measuring tape.
---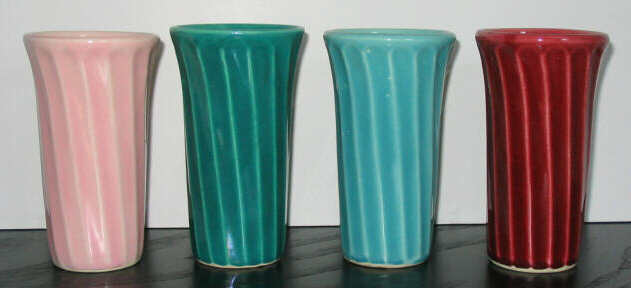 Very hard to find pastel glazed Valencia tumblers with standard colors.
Courtesy: Terri