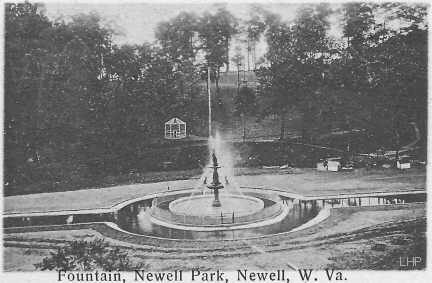 The centerpiece of Newell Park was the large fountain and duck pond. The fountain itself is missing and the main road through Newell, Route 2, runs over the majority of the pond. All that is left is a cement boundary in the ground.

To the right is an early picture of the fountain taken sometime in 1906. It was still under construction when this photo was taken and off to the right you can see the little duck houses that were eventually placed around the fountain. Later, two small bridges were added and the entire pond was fenced in.

The first picture below is a postcard featuring the fountain and pond and is postmarked August 31, 1908. The note on the back says, "Was here. As beautiful as it looks."

The second picture is what remains of the pond today.