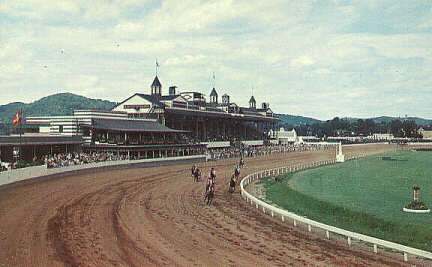 Wheeling Downs in Wheeling, West Virginia opened as a thoroughbred race track in 1937. The following notice appeared in several local newspapers on opening day on September 2nd: A throaty cry of "they're off" opens today a 15-day race meeting at the new $75,000 Wheeling Downs, the first in the Tri-State area in four years.

The track was rebuilt in 1945 when it was taken over by William G. Lias. The grandstand was destroyed by fire in December 1962. After being rebuilt several years later, it was used for both flat and harness racing.

On January 24, 1975, a brief article ran in the Zanesville, Ohio newspaper, The Time Recorder regarding declining attendance at Wheeling Downs:

Wheeling Downs is going to close its harness racing meet Feb. 15, two weeks earlier than planned because of competition from two nearby tracks. The Meadows at Washington, Pa., has moved up its opening to Feb. 14, and Waterford Park at Chester [snip] goes back to night racing Feb. 9, according to Wheeling Downs General Manager Thomas Shehan. "There's no beating around the bush about the reason for our change in the closing date," Shehan said in citing the plans of the other tracks.
---
---
By February 1975, greyhound racing was brought up in a bill in the West Virginia State Judiciary Committee. The president of Wheeling Downs, Joe Cresci stated that the harness racing at the Meadows Track put Wheeling in "serious jeopardy" and that greyhound racing was "the only hope" to keep Wheeling Downs open. [source: The Newark Advocate newspaper. Newark, Ohio. Feb. 14, 1975.]

On August 18, 1976, Wheeling Downs opened for greyhound racing after the racing complex had been revamped. According to the East Liverpool , Ohio newspaper, The Evening Review, "...the parent organization, Odgen Corp., has invested some $1.5 million into the mammoth reconstruction program, with the new results being what they believe to be one of the finest greyhound facilities in the dog racing sport. Along with the new quarter-mile track, there is a bright new Tote Board, and enlarged grandstand area..." The August 11, 1976 article goes on to state the new kennel buildings can house more than 700 greyhounds.

Since 2002, Wheeling Downs has been known as the Wheeling Island Racetrack & Gaming Center. Visit the official website for more on the facility.

Below are some programs and press photos from Wheeling Downs. As you can see from the images, Wheeling Island was prone to periodic flooding over the years.