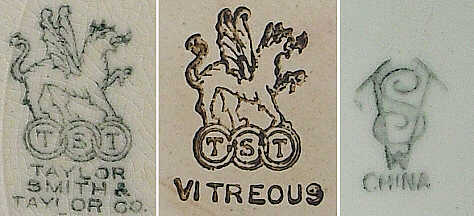 Like most potteries in the early 1900s, the Taylor, Smith & Taylor Company produced decorated specialties and art ware. Shown below are cuts from two undated catalogs. The first is from around 1905 and features a set of fancy embossed shapes. The second set shown is from circa 1915. It features fewer shapes and simpler forms. It was during this time pieces were picked up from standard dinnerware shapes (namely Normandie and Latona) and given art ware treatments.

Most of the decorations used involved blended tints of various shades with decals of fruits, figures, or flowers. Earlier pieces were decorated with gold trim or gold stipple, whereas later pieces relied more on the blended tints.

TS&T art ware was marked with either the general griffin backstamp or the special TST star marking. The three marks shown in the upper right hand corner come from pieces of TS&T art china.

The art ware was discontinued by the ealry 1920s. Shown below are just a few examples of shapes and decorations.

---
Circa 1905 assortment:

Tete-a-Tete sugar, fancy shape
Tete-a-Tete creamer, fancy shape
Tete-a-Tete spoon boat
Sitka bowl
Bohemian Jr. mug
Bohemian Sr. mug
Shell salad bowl
Florodora orange bowl
Brussels salad bowl
Brussels plate
London plaque
Paris plaque
Lace plate
Rome nut bowl
Cairo bowl
Berry bowl (not shown)
Chocolate pot
Cracker jar
Celery tray
Jumbo coffee cup
Jumbo saucer

Circa 1915 assortment:

Calcutta fruit bowl, 8 ½"
Sydney fruit bowl, 9 ½"
Chester tankard
Chester stein
Parlor spittoon
Fargo spittoon
Normandie plaques
Dutch jug
Rocallie jug
Tete-a-tete sugar, Virginia shape
Tete-a-tete creamer, Virginia shape
Tete-a-tete teapot, Virginia shape