In the summer of 1956, the Taylor, Smith & Taylor Co. introduced Chateau Buffet. The body for the new buffet ware was originally made of iron oxide, but when it proved to be unstable, the mixture was changed to nickle oxide. It is the nickle oxide compound that gives Chateau Buffet its brown color.

In order to stand up to heat during use, the body had to have a low expansion rate. This rate was measured by taking a sample piece and submerging it in water for twenty-four hours. If the body didn't absorb water during this time, then it had a 0% expansion rate. TS&T was able to achieve 0% expansion with Chateau Buffet.

Any portion of a piece that would receive food or liquids, such as the insides of bowls, casseroles, and carafes, was glazed in turquoise. The remaining part of the piece was left unglazed resulting in a rough texture.

The following article on TS&T's Chateau Buffet line ran in East Liverpool, Ohio's The Evening Review on Saturday, July 21, 1956:
The Taylor, Smith & Taylor Co. unveiled its newest ware - Chateau Buffet - a the eight annual National China Glass and Pottery show in New York City.

Chateau Buffet is the only oven-to-table ware molded in one piece and each item has the French name of its American counterpart. La Grande Terrine is a 4 ½-quart covered casserole with buffet warmer; La Terrine Moyenne is a 2 ½-quart, and Les Ramequins are 10-ounce individual casseroles.

Le Saladier is a 3 ½-quart salad bowl or Boston Baker with buffet stand and warmer and the salad fork is La Fourchette a Salade and the spoon is La Cuillere a Salade. The salad servers [small bowls] are Les Assiettes a Salade and La Carafe is a 10-cup coffee server with warmer.

Chateau Buffet fuses the continental fetish for good taste in design with the contemporary feeling for line, color, function, and utility, TST said. It takes place at state occasions or informal entertaining with equal aplomb, even lending its decorative charm to kitchens as wall hangings. Its colors of Terre Glaise (cinnamon) with Turquoise accents never encrouch on the appointed decor of table or room. For all its glamor, it will weather daily wear, continuing exposure to modern high oven heats, countless washings in detergents and automatic dishwashers.

The Chateau Buffet line is sturdy. All handles, lugs, and buttresses are molded integral with the body. The lugs on the large and medium casseroles contain brass rings to permit hanging to add warmth and color to the kitchen or dining area. Buttresses on the salad bowl nest in the buffet stand for serving and elevate it properly for warming when the bowl is used as a Boston Baker. The metal buffet stand is finished in natural brass.

Chateau Buffet will be marketed in specially designed gift cartons, making it particularly appropriate for gifts.
After the success of Chateau Buffet, an expansion line was added called, Chateau Ware. Unlike Chateau Buffet, Chateau Ware was completely glazed. The standard assortment for both lines is given below.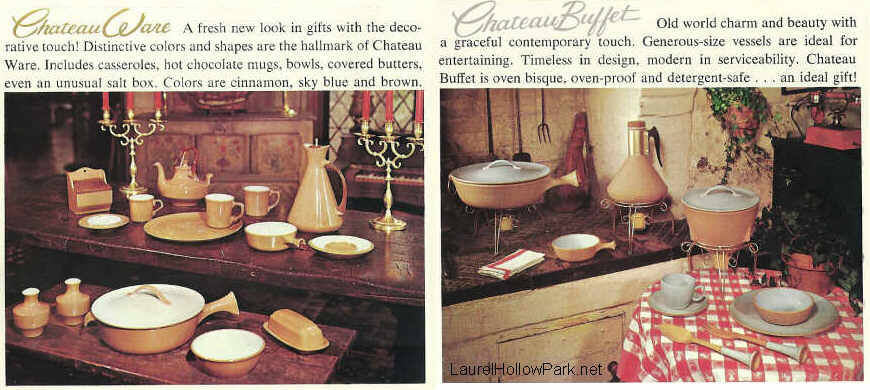 Advertisement dated 1965 showing both Chateau Buffet and Chateau Ware
Chateau Buffet

Chateau Ware

Le Saladier, with fork and spoon
Les Assiettes a salade
La Grande Terrine
La Terrine Moyenne
Les Ramequins
La Carafe
Cup and saucer
Dinner plate

Coffee Server
Covered Casserole
Hot Chocolate mug
Bowl
Ramekin
Covered Butter
Salt box with wooden lid
Creamer

Barbecue set
Ashtray, 6 ¾"
Ashtray, 6"
Range salt shaker
Range pepper shaker
Teapot
Bean Pot
Sugar with wooden lid