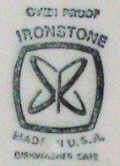 Octagon was a limited assortment, octagonal shape with an embossed rim that was produced mainly in the early 1970s. The Zircon-hard glaze was touted as being durable and long lasting.

The mosts common pattern, Octagon Amber, has shapes glazed in dark gold textured interiors with dark brown exteriors. The rose decal from Moulin Rogue and the golden daisy decal from Versatile were used on Octagon. The Holly & Spruce Christmas tree decal was also used to create the "Octagon Holiday" line. Other patterns include Bridges, Aurora Mist (white with yellow accents), Amber Mist (white with brown accents), and the undecorated version, Heritage Mist.

Expect to find larger pieces with a backstamp similar to the one shown to the right.