Paramount and Regal by The Taylor, Smith & Taylor Co.
LaurelHollowPark.net, an informative website created and
maintained by Mark Gonzalez. Copyright © 2009-.
---
The Paramount shape was created by Kenneth P. Beattie. Previously, Beattie designed the Belva shape for TS&T. (For more on Beattie and his tragic death, see the page on Belva.)

Paramount was made with a scalloped border, embossed edge, and octagonal well. A second line, Regal, was created with the same rim embossing, but it was more of a square shape with a circular well. Regal used Paramount hollowware.
---
A sampling of Kenneth Beattie's patent drawings from 1927.












---
Ivory glazes were becoming popular after Sebring and the Edwin M. Knowles potteries introduced them in the mid-1920s. In fact, the Paramount shape, in conjunction with ivory glazes, was mentioned in a 1927 report from the United States Potters' Association:
... it is necessary to call your attention to the continued increase of the manufacture of ivory ware, to the great number and variety of new shapes being made, to the use of new and bright colored glazes together with ivory glaze, lustre or vellum over the pattern, and to the production of the greatest and most varied line of decorations ever produced by the potters of this country.

The demand for ivory ware has so far exceeded the demand for white ware that a great many firms, which formerly believed that the ivory was simply a temporary fad, having been converted, and are now making ivory instead of white ware.

You will recall that two years ago there were an unusually large number of new shapes produced. Last year the number was less, but this year there are already reports of new shapes, which have been named and six more from potteries which are making new shapes, but have not decided on the names. The names of the manufacturers and shapes are as follows

The Atlas Globe China Co.: Mt. Vernon
The French China Co.: Autocrat
The Knowles, Taylor & Knowles Co.: Berkeley
The Homer Laughlin China Co.: Newell
The National China Co.: Supreme
The Sebring Pottery Co.: Paul Revere
Taylor, Smith & Taylor Co.: Paramount
H. R. Wylie China Co.: Virginia
Besides the ivory glaze, Paramount was also made in the following solid colors:
Rose - a deep pink
Sunshine - a rich, golden yellow
Madrid - a bright yellow
Jade - a somewhat dark green
Green - a bright, Depression era type green commonly used by other potteries
Both Paramount and Regal were made in a pink body clay and given a clear glaze. The pink bodied TS&T ware was usually marketed as, "Rose Mist." (See the page on Capitol for an advertisement featuring Rose Mist.)

Initially, Paramount was marked with a special Paramount Ivory backstamp which promoted both the new shape and new ivory glaze. Later examples have the regular shield marking.

By the mid-1930s, Paramount and Regal were replaced by the more popular, Laurel, Garland, and Fairway shapes.
---







1932 Sears advert for Wild-Rosewood on Regal


1932 ads for Ansonia, Gotham, and Kendale on Paramount
---

"Ansonia" 36s bowl, 9" plate, and low teacups


"Bluet" fruit cups and low teacup


Handled tray (no well) with pattern 113


Handled tray (with well) for Peter Zielinski's Grocery


Paramount fruit cup


"Morning Glory" pattern 391


Butter dish bottom, pattern C402


Lidded platter with corn decal and green trim
---

9" plate, tall teacup and saucer, pattern 694


Paramount Ivory plate


Paramount Rose Mist plate, "Garden" pattern 345


"Spring Flowers" plate


"Yellow Rose" plate


"Orange Rose" plate


"Morning Glory" compartment plate


Pattern 514 compartment plate


Rose Mist plate with gold stamps
---

Paramount Ivory platter, "Yellow Rose"


Paramount Rose Mist platter, "Bluet"


Paramount Rose Mist baker, pattern 339


Paramount Rose Mist baker, pattern 340


Baker with "French Rose" pattern 259


Paramount Ivory covered sugar


Paramount sugar and creamer, pattern D535


Paramount Ivory sauceboat and covered sugar


Paramount Rose Mist gravy fast-stand, pattern 239


Paramount Rose Mist casserole


Paramount Rose Mist cream soup, "Thistle"


"Paramount Rose" sauceboat


Paramount Ivory syrup, pattern D417


Paramount Ivory syrup, pattern 426
---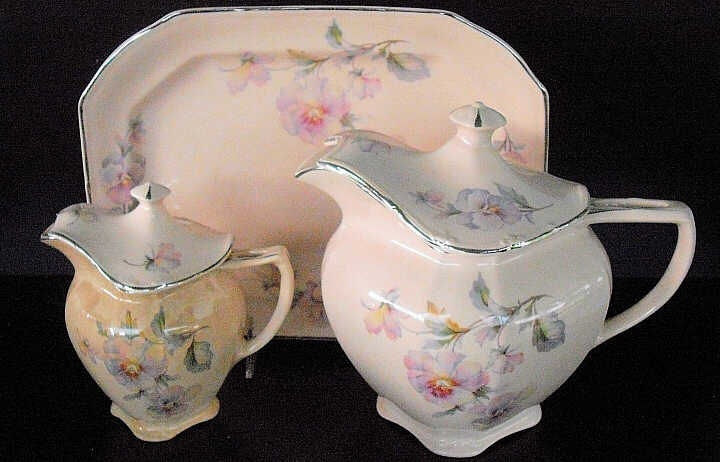 Paramount Rose Mist, platter, syrup and batter jug, "Pansies"
---

Paramount creamer in Depression green glaze


Paramount cups in Rose Mist and yellow (left) Garland Rose Mist cup


Paramount covered muffin in rose glaze


Covered muffin in rose - both photos courtesy Carl and Fran Stone


Covered batter jug in Sunshine glaze with pattern 144, "Gold Tulips"


Batter jug, Madrid glaze, pattern 114


Regal shape, Sunshine glaze 10" plate and soup bowl


Regal 7" plate with Birds of Paradise decal


Regal shape plate, pattern 403 ½


Regal Rose Mist, "Orchid"


Regal 9" plate, pattern 493


Regal 6" plate, pattern 238