Pebbleford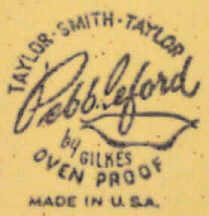 Pebbleford was a solid color line of dinnerware made from 1953 until the mid-1960s. The shapes came directly from Versatile and were given colorful speckled glazes. Initially, it was sold mainly in rainbow sets, but by the end of its production run, it was usually offered in single color sets.
The original colors from 1953 were sand, teal, granite, and sunburst. Turquoise, marble, and pink were added soon after. By the late 1950s, granite and teal had been replaced by a new green called mint. Burnt orange was made in the 1960s.
The full list of Pebbleford glazes is given here:
Sunburst
Granite (grey)
Sand
Teal
Turquoise
Pink
Mint Green
Marble (white)
Burnt Orange
Honey, used mainly with Reveille, a rooster decaled line
Lime Green, used in Catalina and previously called "unknown" green
Most pieces were marked with a special Pebbleford backstamp with a date code. Expect to find pieces from other shapes, namely Empire and Ever Yours, in the speckled glazes as well.
| | |
| --- | --- |
| Mid-1950s advertisement for Pebbleford | Mid-1960s advertisement for Pebbleford |
---
Original Pebbleford brochure showing Sunburst, Sand, Granite, and Teal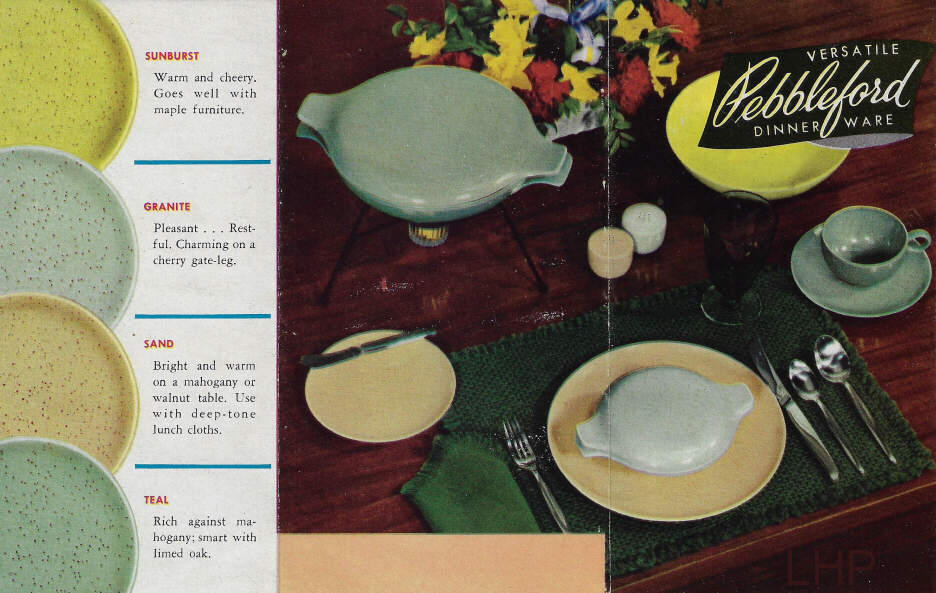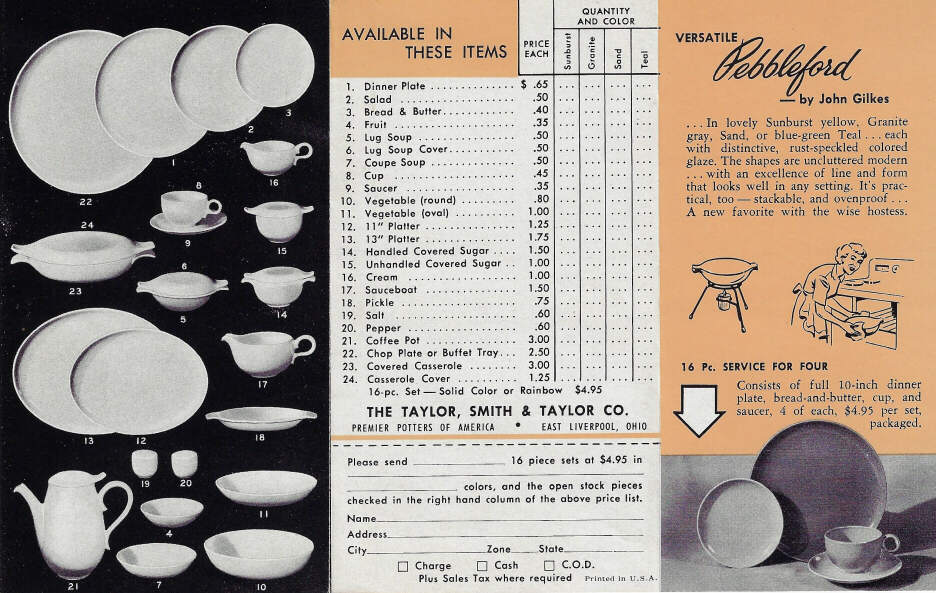 ---

10" plate in granite, creamer in sand, gravy in pink


Cup and sacuer in sand


Oval vegetable in sand


Pickle in sunburst


Round vegetable in sunburst, coupe soup in teal


Fruit cup in burnt orange


Divided dish in pink


Teapot in granite


Coffee pot in sand and service jug in turquoise


Teapot in marble, egg cups in sand and sunburst


13" and 11" platters in turquoise


Salt and pepper shakers in sand


Covered lug soup in granite


Covered cheese dish in sunburst


Unhandled sugar in pink, handled sugar in teal


Cigarette box in sunburst
---


Mixing bowls in Sunburst, granite, sand, and teal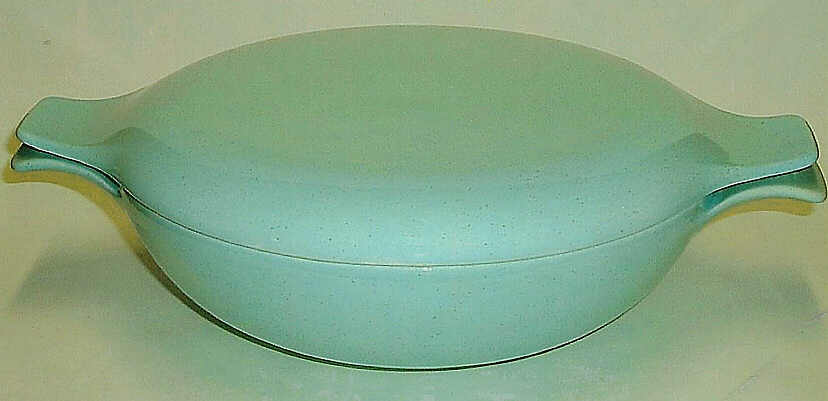 Covered casserole in turquoise


Comparison of greens and gray, left to right: granite, lime, teal, and mint
---
Catalina
The Catalina line of dinnerware was produced by Taylor, Smith & Taylor from 1956 until late 1957. It was intended as a supermarket promotion and was offered by various chains from coast to coast. A&P Supermarket was one of the largest involved in the promotion. They offered Catalina primarily during the summer months in 1957.
A four or five piece place setting (depending on the store) was offered at a set price. Each week an accessory item was discounted. For example, on one week the shakers would be reduced from $1.60 to $1.19; another week the oval platter would go from $2.35 to $1.79. When the sale had run its course the remaining stock was discounted until it was all gone.
Catalina was based on TS&T's speckled glaze Pebbleford line which was first made three years prior. Three colors were selected from Pebbleford; pink, turquoise, and sunburst. A fourth color, green was specially created for Catalina. The colors were given special names during the promotion:
Pink - Coral Pink
Turquoise - Avalon Blue
Sunburst - Lemon Yellow
new Green - Lime Green
To make Catalina distinct from Pebbleford, newly made shakers, teacup, and a creamer would take the place of the standard Versatile shapes. Also, the Classic shape coffeepot stood in for its Versatile counterpart. The assortment often varied from one supermarket to the next. The coffeepot and lug soup were usually offered in promotions from 1956, but often disappear in ones from 1957. The full line is given below. All pieces are from the standard Pebbleford/Versatile shape unless otherwise noted.
10" plate
7" plate
Teacup (Catalina shape)
Saucer
Soup bowl
Fruit cup
Covered sugar (handleless version)
Creamer (Catalina shape)
Round vegetable bowl
Oval vegetable bowl
Shakers (Catalina shape)
Covered casserole
12" platter
Divided baker
Coffee server (Classic shape)
Lug Soup
Catalina was never to be marked. According to company records, the line was to be marketed by "Sunset Potteries" of Arcadia, California with special notes that no piece is to receive a Pebbleford backstamp and all TS&T marks were to be removed from cartons. Sunset Potteries was to be shown as the shipper. Catalina was being offered at much lower prices than Pebbleford so these efforts (along with the new hollowware and new green glaze) must have been done to distance the two lines from each other as much as possible.
| | |
| --- | --- |
| Catalina promotion from 1956 | Catalina promotion from 1957 |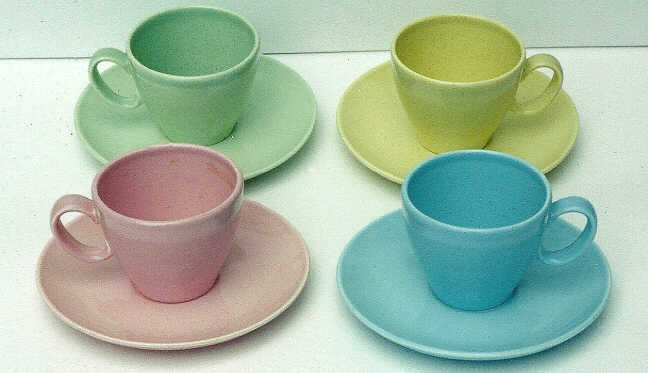 Catalina cups and saucers in all four glazes
---
Left: Catalina shakers in lime green with Pebbleford shakers in teal
Right: Catalina shakers in avalon blue






Left: Classic shape coffeepots in coral pink and avalon blue
Right: Catalina creamer (sometimes confused as a syrup) in lemon yellow






Left: Classic shape coffeepot and Catalina creamer in Lime Green (mistakenly sprayed turquoise inside)
Right: Pink handleless sugar (used with both Catalina and Pebbleford) and teal handled sugar (Pebbleford only)
---
The Catalina shape teacups were used again in at least two special Pebbleford "Scandia" lines; Arctic Night and Daisy Dane. Arctic Night uses turquoise hollowware while flatware and lids were glazed in Marble (white Pebbleford) and given six-petal floral decorations. Daisy Dane is identical to Arctic Night except it uses Sunburst instead of Turquoise as the contrasting color. Most of the dinner plates will be marked Scandia with the appropriate decoration name.
| | | |
| --- | --- | --- |
| Arctic Night 10" plate | Arctic Night cup and saucer | Daisy Dane advert |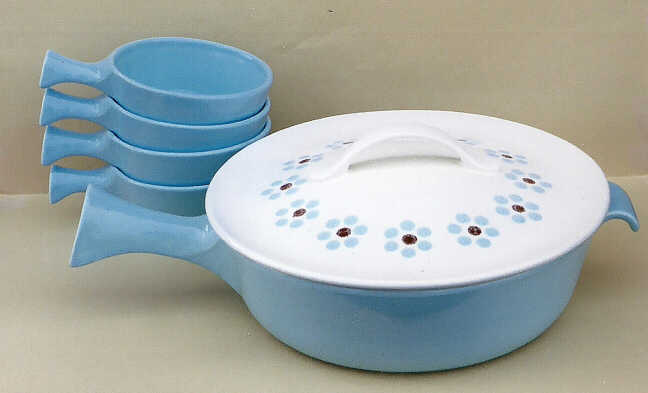 Arctic Night soup tureen and bowl set.
---
Spice
To the right is an image from a vintage ad of a line offered by Montgomery Wards in the late 1950s. The line is called, "Spice" and has a mixture of Taylor Smith and Taylor shapes in Pebbleford glazes.

The ad reads:

Refreshing colors on interesting modern shapes make an exceptionally attractive table setting. Four colors in each set: Turquoise, Pink, Gray [Granite] and Yellow [Sunburst], each spiced with brown flecks. Colors always stay bright and clear because they're under the glaze.

This line could be ordered in sets for 4, 6 or 8.
Individual items could be ordered from open stock.

The flat ware is Versatile, but the hollowware is a combination of Versatile and Empire
The following pieces were available in any color (from the "open stock" listing):

Versatile Flatware:

10" plates
6" plates
saucers
coupe soup
fruit cup
small platter
medium platter

Versatile Hollowware:

Coffeepot
Salt and Pepper shakers

Empire Hollowware:

Creamer
Covered sugar, handleless
Teacup (Laurel) with straight foot

The Versatile hollowware and flatware are part of the standard Pebbleford line.
However, the three Empire pieces were not offered with Pebbleford and are very hard to find in the speckled glazes.
| | |
| --- | --- |
| Empire sugars in turquoise and pink | Empire creamer in sunburst |
---
Pebbleford with decals
Pebbleford was made with decals during its run. Examples in turquoise, sunburst, pink, and marble have been found so far.

"Mardi Gras" on Pebblefrod with black accents


"Pennsylvania Dutch" on sunburst sugar and creamer


"Mardi Gras" plate and casserole with pink lid


"Swiss Provincial" mixing bowl


Santa with gold stamp border


"Powder Blue" on turquoise


"White Wheat" on turquoise with platinum edge


"Dandelion" on pink


"Dwarf Pine" cup (left) with same decal on a Pebbleford turquoise creamer


"Italian Rose" on a sunburst casserole