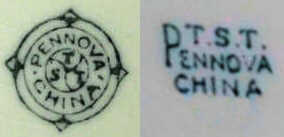 Pennova was introduced sometime around 1913. The shape was given a slightly scalloped rim with very light embossing details. Most pieces were given special Pennova backstamps. At least two versions were used - the plain text and the circle markings.

The following write up appeared in the January 8, 1914 issue of the Crockery and Glass Journal and mentions both Pennova and Verona:
"Taylor, Smity & Taylor Pottery Co. - Cecil E. Taylor [of Pittsburgh] is showing the general dinner ware lines of this well-known concern in a very attractive manner. The "Verona" shape is to be seen in a number of new and exclusive treatments, and the "Pennova," or fancy shape, is also to be had in many decorations. The covered jug line has been improved, and is most attractive. Toilet ware is shown, as well as a number of new treatments in baby sets."
Pennova was made for only a few years and is rather scarce today. Expect to find examples decorated with decals.