Taylor, Smith & Taylor Co.
LaurelHollowPark.net, an informative website created and
maintained by Mark Gonzalez. Copyright © 2009-.
---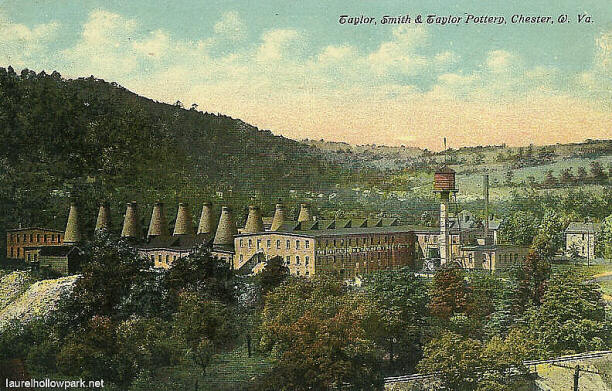 Taylor, Smith & Taylor Company (TS&T) was in operation from 1900 until 1981 in Chester, West Virginia. The original owners were: Colonel John N. Talyor, C.A. Smith, Joseph G. Lee, Albert G. Mason, and William L. Smith. It was originally known as Taylor, Lee & Smith, but when Lee left the business early on, the pottery officially became Taylor, Smith & Taylor. (A more complete early history is given on page 2.)

Like many other potteries in the early 1900s, TS&T made dinnerware, hotel ware, toilet sets, and specialty pieces. In the late-1920s, the toilet wares and specialty items (spittoons, placques, cracker jars, etc.) were phased out. From then until closing, TS&T produced mainly semi-vitreous dinnerware to be sold in department stores, five-and-dimes, hardware stores, and through catalogs.

J. Palin Thorley, Walter Teague, and John Gilkes designed most shapes used by TS&T from the 1930s until the early 1960s. Thorley was responsible for many of the pieces made in the 1930s including the Empire shape which became the basis for Lu-Ray Pastels. Teague created the Conversation shape bringing TS&T into the 1950s with a new, modern design. Gilkes designed Versatile, another mid-century modern shape which became a workhorse of sorts for the pottery until the late 1960s.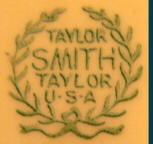 In the 1950s, Timbercraft was formed. It was a woodworking a company which was owned by TS&T, but operated independently. Timbercraft made the wooden lids and handles found on TS&T products. They also made cutting boards, serving bowls, candlesticks, spice racks, and trays using primarily black walnut.
TS&T was bought out by Anchor Hocking in 1972 and continued to produce dinnerware until it closed in 1981. The plant was never used again, and in 2012, the remains of the pottery were demolished.
---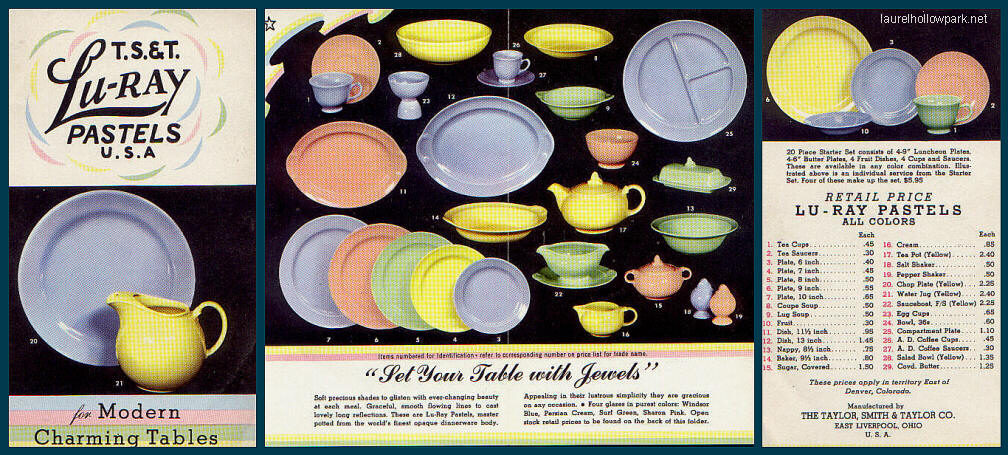 Taylor, Smith & Taylor's popular Lu-Ray Pastels, 1938-1961.
---
| | |
| --- | --- |
| | |
---
The photos below show the wide range of styles offered by TS&T though the years.
These images come from Taylor, Smith & Taylor Dinnerware by Mark Gonzalez, Schiffer Pub Ltd (May 1, 2004)


Belva, Mid-1920s


Mexican Fantasy, late-1930s


Vistosa Ball Jug, late-1930s


Granada Coffeepot, 1960s


Souvenir bowl, 1910


Test plate, late-1930s


Laurel Teapot, 1930s


Blue Mist, 1950s


Child's Chamber Set, 1915


Timbercraft Cheese Dish (*) 1960s


English Abby Teapot, 1940s


Paramount Snack Tray, late-1920s


Chateau Buffett, 1950s


Covered Bridges, 1970s


Golden Wheat, 1950s


Plaid treatments, 1950s


Apple Range Set (**) 1940s-50s


Pebbleford Coffeepots, 1950s


Miami Demitasse Set, 1930s


Italian Rose Soup Tureen, 1940s

---

* Base is Timbercraft, ceramic insert by TST, glass dome purchased by TST from an outside source.
** There is also an apple cookie jar. These were made in pastel yellow with the red part
sprayed on and the leaves and stems hand-painted in green. They were never marked and
most antiques dealers today misidentify them as Hull or McCoy pottery. (See this page for more.)
Classic shape coffeepot
1950s

Ornate Coffeepot
Eearly 1900s

Versatile Jug
1950s
Decaled Chester Hotel China, early 1900s.