After the success of Fiesta by the Homer Laughlin China Company, other potteries started to create their own line of solid colored dinnerware. In late 1937, Taylor, Smith & Taylor began production of Vistosa. It was made in colors very similar to HLC's Fiesta; red, yellow, green and blue. One trade write up from 1938 described the new embossed shape:
One of the interesting pieces in the "Vistosa" shape of color dinnerware, recently introduced by the Taylor, Smith & Taylor Co., East Liverpool, is the chop plate. This is made in two sizes. The richly embossed shoulders of "Vistosa" add a most artistic touch to the flat ware as well as to the bowls and pitchers.

Production of "Vistosa," a word derived from Spanish and meaning "to brighten: to make cheerful", is being stepped up as the new addition to the Taylor, Smith & Taylor Co. pottery gets into full production. The "Vistosa" is made in a new addition to the pottery so that the gay colors can be controlled accurately throughout the productive process.

"Vistosa" ware is for table use at all hours and for all occasions, including regular meals, luncheons, and parties. It is produced in bright shades of red, blue, yellow, and green. This selection offers the housewife a wide choice of color combinations. Shipment of "Vistosa" to department stores has been increasing, including re-orders as the result of consumer acceptance.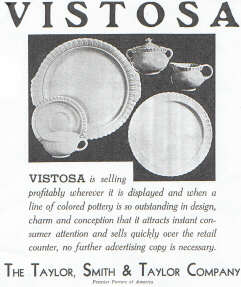 Vistosa was supposed to be a round shape with no ovals. Instead of platters there were tab handled chop plates. In keeping with the perfectly round design, no sauceboat was offered initially. However, one was created after the shape went into production. Since it was a later addition, sauceboats are more difficult to find than other pieces.

Oddly, there was no casserole in the Vistosa line. With the exception of the later Anchor Hocking shapes from the 1970s, namely Octagon, Old Town, Concord, and Casual Coupe, all other TS&T shapes had a covered casserole.

The footed salad bowl was the only piece to undergo any significant changes. The earliest versions were made with a ruffled, embossed foot which was soon changed to a plain, smooth foot. The molds for the sugars and creamers were changed at some point. Some can be found with an embossed Vistosa marking. Others have the standard Vistosa underglaze backstamp.

Expect to find most Vistosa marked with backstamps. Some pieces can be found with their original foil stickers.

The Vistosa shape was discontinued around 1943.