Century & Riviera by Homer Laughlin
The following originally appeared on pages 29-32 of An Overview of Homer Laughlin Dinnerware ©2002,
and is being posted on www.laurelhollowpark.net with permission along with corrections and updates.

---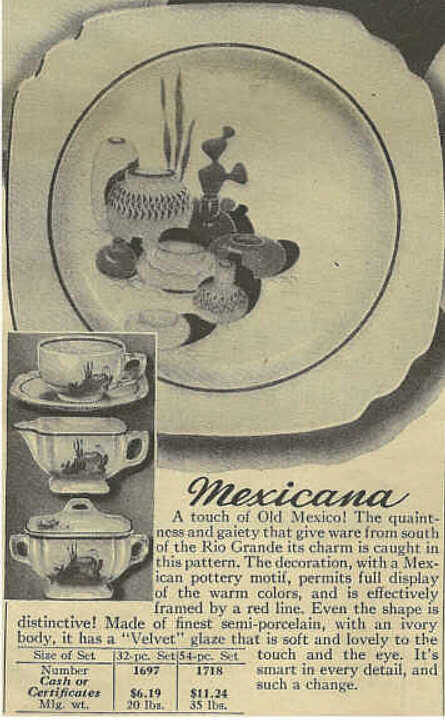 The Century shape was developed in 1930. On February 2, 1931, Frederick Rhead noted in his journal: Finished modeling Century Square shape with Vellum glaze. Samples shown at Pittsburgh show in January.

For the next two months work proceeded on developing decals and platinum stamps on the new shape. It was during this time the very popular English Garden (C-4) treatment was designed.

In March, there were problems with the Vellum glaze. Rhead noted on March 3rd: "...Type of Uranium used effects brown stains on glazed edges." Any glaze that has uranium in its mixture (namely ivory and red glazes) is very difficult to manage. It is not uncommon for such staining to occur during firing if the kiln temperature is too high. One proposed solution was to take examples already fired and decorate with ivory trim. Two days later Rhead noted the special ivory trim wasn't working in covering up the brown staining. It would take more trails to get the new vellum glaze perfected. After being shown at trade shows at Pittsburgh and Cleveland, Century was put into production.

In July 1931, two replacement items were ordered for Century; a demitasse creamer and open sugar. The only specification listed is they were to have a straight foot to replace the flared version. both styles are extremely hard to find so they must have been in production for a short period of time.

Century is rather easy to find. It was a major HLC decal shape from its introduction in 1931 until lit was phased out around the late 1940s. Some items were discontinued early such as the covered butter, demitasse cup and saucer, 36s bowl, cream soup with its liner, and gravy fast stand. These have become key pieces for Century collectors and when found in ivory with no decoration, they become very desirable to Riviera collectors. Century is usually marked with the multicolored Wells peacock mark or a general backstamp The square shape received just about every type of decoration available at the time such as decals, platinum and gold stamps, silk screen, and solid colors.
---
| | |
| --- | --- |
| Pattern C-2 | Pattern C-132. It is Y-56 on Yellowstone |
| | |
| --- | --- |
| Vellum 36s bowl with "Meixcana" fruit and yellow trim | Vellum cream soup cup |
| | | |
| --- | --- | --- |
| Covered Butter | Sauceboat and liner | "Hacienda" C-237 cup and saucer |
| | | |
| --- | --- | --- |
| Pattern JF-28, "Splash" | Pattern C-3 Nappy | "English Gardern" |
| | |
| --- | --- |
| W-331 Century A.D. Cups and Newell Saucers | Century milk jug with pattern W-311 |
| | |
| --- | --- |
| Century plate with gold stamps | "Black Tulip" batter, syrup, demitasse sugar and creamer |
---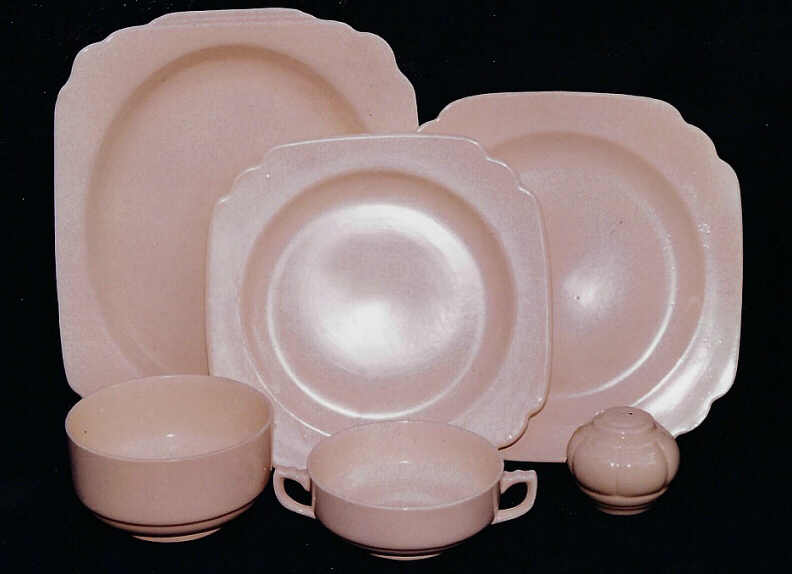 Century Vellum; platter, plates, 36s bowl, cream soup, and a Tango shaker.
Photo courtesy Richard G. Racheter.
---
Vintage promos for pattern W-331, "Columbine"






---
The following five pictures are courtesy Joanne Jasper.


Meixcana with an Hacienda plate


Century creamer and gravy with pattern C-21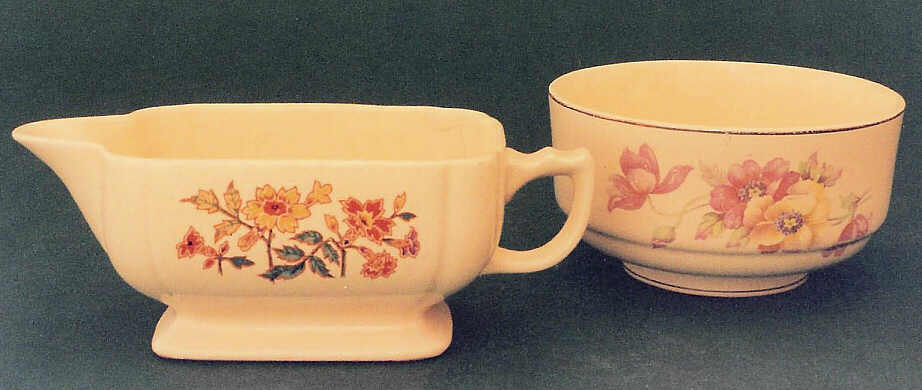 Pattern W-331 on a Century gravy with a 36s bowl
| | |
| --- | --- |
| Plate and casserole with C-74 | "Chianti" pattern |
---
Most potteries had to use a letter and number system to keep track of the many shapes and treatments that were available at any given time. Each company had their own system. For example, the Taylor Smith & Taylor Company would use a number for a specific treatment regardless of the shape. The Edwin M. Knowles China Company would do the same, but add a suffix to denote the edge color as in 501-E1 for pattern 501 with gold edge or 501-E0 for pattern 501 for no trim at all. The W. S. George Pottery Co. had a very complex system and after many years ot trying to figure it out, I'm still not 100% sure on how it worked.

The Homer Laughlin China Company numbering system included a prefix with either the shape initial or a customer's initials. "WW" stood for Woolworth's, "MW" for Montgomery Wards, etc. A specific decal could have multiple treatment numbers depending on the amount of shapes, different edge treatments, and in a few cases, the grade of ware.

These pictures, taken by author Joanne Jasper in the 1990s, are of treatments used on HLC's Century shape and are prefixed with a "C" except for the three MS patterns at the bottom. Decal books like these have a wealth of information. As you can see there are notes on the grade of ware; Scheme, RK (for Run of Kiln), and thirds. There are notes on how the corresponding hollowware should be decorated as well as type of glaze (vellum or ivory). In many cases, there is a reference to the originating decal. For example, C-107 and C-205 were originally used with the Orleans shape as O-19. C-200 uses a decal from the Jade shape (J-6).

At the bottom of the page are photos taken at the factory of Century sample plates with their treatment numbers. They represent only a portion of the many decorations used on the Century.
---
---
Assortment of Items:

10" plate
9" plate
8" plate
7" plate
6" plate
Teacup
Saucer
AD cup
AD saucer
Demitasse sugar, flared foot
Demitasse sugar, small foot
Demitasse creamer, flared foot
Demitasse creamer, small foot
Sauceboat
Gravy fast stand
Teapot
Casserole
Onion (lug) Soup
Round Butter
1/2-lb Butter (Jade)
Batter Jug with lid

Creamer
Sugar with lid
Milk Jug
Syrup with lid
7" baker
8" baker
9" baker
7" nappy
8" nappy
9" nappy
Fruit cup
Oatmeal bowl
Deep plate
Cream soup cup
Cream soup liner
36s bowl
9" platter
11" platter
13" platter
15" platter
Square platter (batter tray)