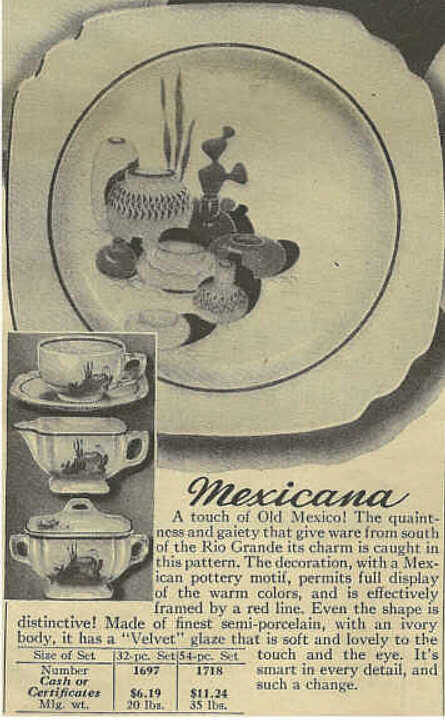 The Century shape was developed in 1930. On February 2, 1931, Frederick Rhead noted in his journal: Finished modeling Century Square shape with Vellum glaze. Samples shown at Pittsburgh show in January.

For the next two months work proceeded on developing decals and platinum stamps on the new shape. It was during this time the very popular English Garden (C-4) treatment was designed.

In March, there were problems with the Vellum glaze. Rhead noted on March 3rd: "...Type of Uranium used effects brown stains on glazed edges." Any glaze that has uranium in its mixture (namely ivory and red glazes) is very difficult to manage. It is not uncommon for such staining to occur during firing if the kiln temperature is too high. One proposed solution was to take examples already fired and decorate with ivory trim. Two days later Rhead noted the special ivory trim wasn't working in covering up the brown staining. It would take more trails to get the new vellum glaze perfected. After being shown at trade shows at Pittsburgh and Cleveland, Century was put into production.

In July 1931, two replacement items were ordered for Century; a demitasse creamer and open sugar. The only specification listed is they were to have a straight foot to replace the flared version. both styles are extremely hard to find so they must have been in production for a short period of time.

Century is rather easy to find. It was a major HLC decal shape from its introduction in 1931 until lit was phased out around the late 1940s. Some items were discontinued early such as the covered butter, demitasse cup and saucer, 36s bowl, cream soup with its liner, and gravy fast stand. These have become key pieces for Century collectors and when found in ivory with no decoration, they become very desirable to Riviera collectors. Century is usually marked with the multicolored Wells peacock mark or a general backstamp The square shape received just about every type of decoration available at the time such as decals, platinum and gold stamps, silk screen, and solid colors.