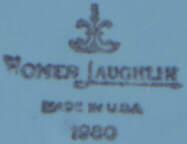 In May 1978, Homer Laughlin began working on a modeling program to reissue the Harlequin line at Woolworht's request. The limited line included the 10" and 7" plates, cup, saucer, cereal and round serving bowls, creamer, and a covered sugar. A new piece was created which didn't exist in the older line; the 12" chop plate. The covered sugar was modified with solid handles and finials. All other items, except for the chop plate, were based on vintage models. The only piece considered which didn't make the cut in the reissue assortment was the 9" plate.

The colors consisted of: yellow, turquoise, coral and green. The new green, often called, "reissue green", was a milky shade of the older medium green. The line was sold until around 1983.

Serving bowls, 10" plates, and chop plates usually have a general HLC backstamp with the year.