Table Fair by Homer Laughlin
The following originally appeared on pages 96-97 of An Overview of Homer Laughlin Dinnerware ©2002,
and is being posted on www.laurelhollowpark.net with permission along with corrections and updates.

---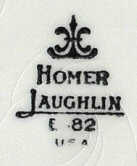 Table Fair hollowware from 1980 was mixed with Harlequin flatware to make up the "Homestead Dinnerware " line. The Harlequin pieces are the same ones used a few years earlier for Woolworth's reissue. (See this page for more.) The Table Fair hollowware was specially modeled for this line. Unlike Harlequin's conical body, Table Fair was made cylindrical, but with a set of Harlequin-like rings. The Harlequin saucer wasn't used. Instead, an oversized version was made to accommodate the mug-like cup.

All the pieces of Homestead Dinnerware received a specked "Country Sage" glaze. Dinner plates could be purchased with or without the berry or wheat treatments. Plates are generally marked with an HLC backstamp and two digit date code. Some hollowware can be found with a USA mold marking.

The Harlequin and Table Fair shapes were mixed with other pieces to create new lines. A rim cereal bowl was created to replace the older "rolled top" or flared Harlequin version. Cups were either specially created or picked up from other shapes over the years. The examples below show some of the variations HLC used to create different lines during the 1980s.
---

Homestead Dinnerware
10" and 7" plates gravy, cereal bowl


Homestead Dinnerware
10" plates, butter, vegetable, cup and saucer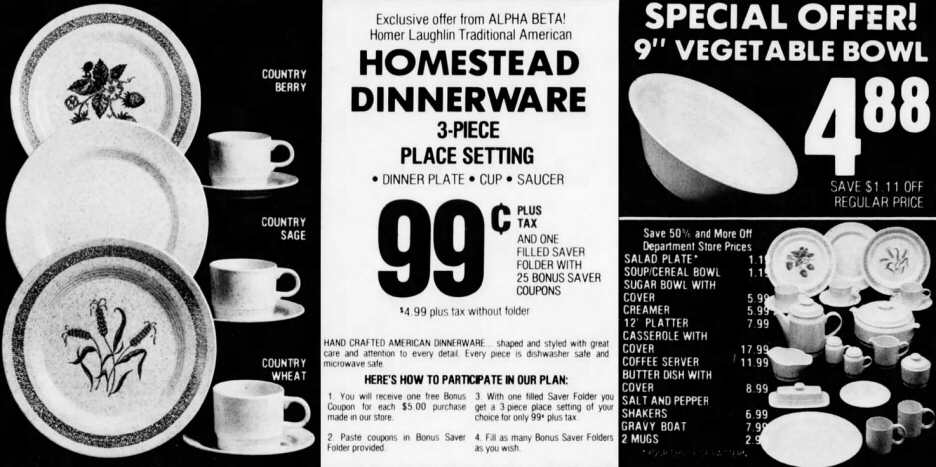 Homestead dinnerware advertisement from 1983
The Shakespeare mug is stil in production today. To the left are three Shakespeare mugs in the special Table Fair "Country Sage" glaze. To the right are more recent mugs in the Fiesta® glazes, cobalt, turquoise, and sea mist greeen.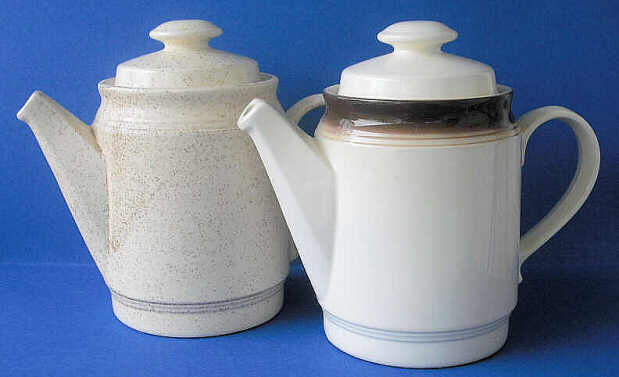 Table Fair Coffeepots in sage and with brown fade-away trim.
---
Homestead Dinnerware Assortment of Items:

12" Chop Plate (Harlequin)
10" Dinner Plate (Harlequin)
7" Plate (Harlequin)
Vegetable Bowl (Harlequin)
Cereal Bowl (Harlequin)
Cup (Table Fair)
Saucer (Table Fair)
Sugar (Table Fair)

Creamer (Table Fair)
Covered Butter (Table Fair)
Casserole (Table Fair)
Gravy (Table Fair)
Mug (Shakespeare )
Coffeepot (Table Fair)
Shakers (Table Fair)
---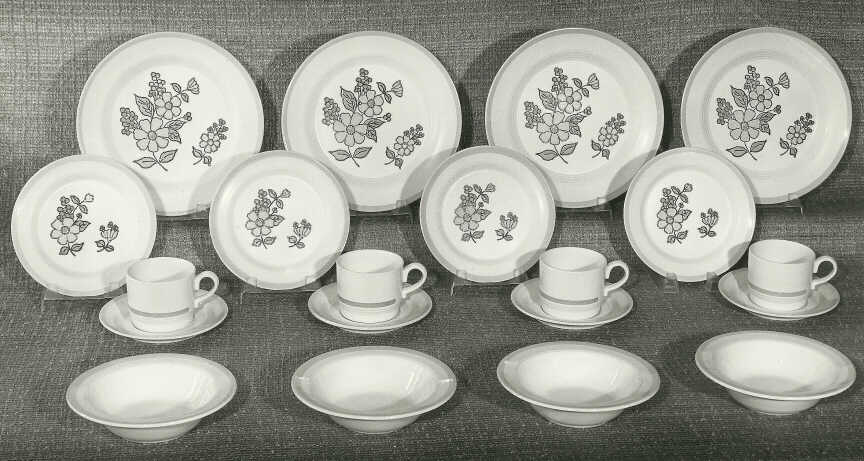 Promotional photo for pattern WT-102, "Suzanne", Courtesy The Homer Laughlin China Co.
This line uses the Table Fair cups with a restyled handle and rim cereal bowls instead of the older flared Harlequin versions.
---

"Cambridge Rose" WF-109
This was also made in blue, green, and brown.


"Cambridge Blue", WF-107
(Cup is the Continetal shape.)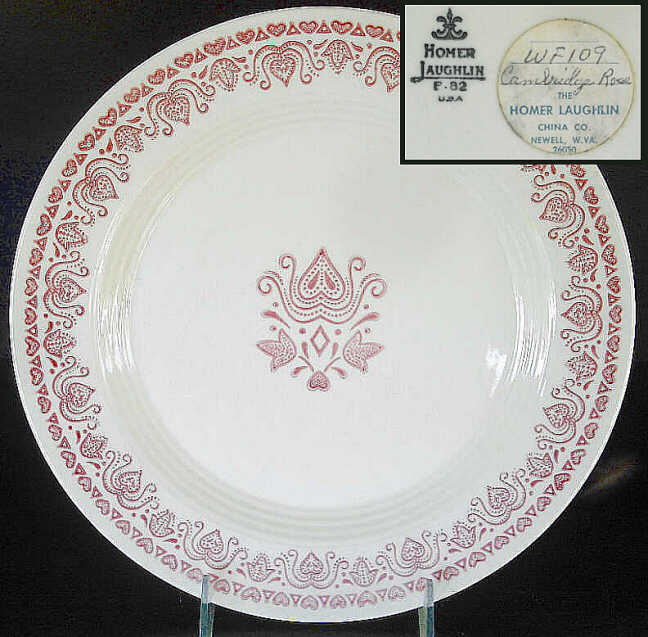 "Cambridge Rose" 10" plate with its treatment sticker and backstamp.
---
| | | |
| --- | --- | --- |
| "Country Berry" | "Country Wheat" | "Country Sage" |
| "Harlequin White" | "Suzanne" | "Bennington" |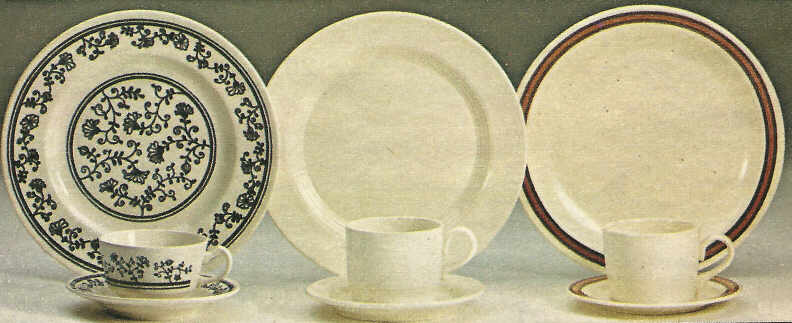 Advertisement from 1982. From left to right: Old Sturbridge on Provincial, Harlequin White with restyled Table Fair mug, and Camel.
---
"Colours" was a solid colored line of dinnerware using the four contemporary Fiesta® glazes; cobalt, persimmon, sunflower, and juniper. The line wasn't picked up and most of the inventory was sold through the Homer Laughlin outlet store in Newell.

The rim cereal bowl and plates, last used in the early 1980s, were redesigned with a Fiesta-like center set of rings. The Table Fair mug was restyled with a larger handle. Colours was marked with a general HLC backstamp.


"Colours" 10" plate and rim cereal bowls


"Colours" 10" plate


"Colours" Mugs