The Mt. Clemens Pottery Company of Mt. Clemens, Michigan began production in 1915. It started out just like any other pottery producing decorated white ware for the general trade. However, in 1920 the firm was purchased by the S. S. Kresge Company. From 1920 until 1965, Mt. Clemens Pottery was integrated with Kresge five and dime stores. It should be noted even though Kresge's had its own pottery, the retailer would continue to purchase ware from other firms. For example, in 1935 Kresge stores carried Homer Laughlin's OvenServe kitchen and tableware line.

With Kresge's capital, Mt. Clemens was able to grow. The most notable improvement occurred when they became the first pottery to have a continuous tunnel kiln. This would replace the older, upright bottle kilns. Eventually, other potteries followed suit and adopted tunnel kilns. Mt. Clemens' new kilns and faster production were mentioned in the East Liverpool, Ohio newspaper, The Evening Review on Wednesday, August 24, 1921:
Production of the Mount Clemens Pottery Company factory is on a 60 per cent basis, about 260 employees being at work of an average of 400. The capacity is 10,000 dozen sets of tableware in 24 hours. New bake ovens now in use handle three times as much product per day as the old stationary kilns. Molds are passed through the new kilns at the rate of seven feet per hour and the process is continuous. Manager C. E. Doll says this is the largest pottery plant in Michigan and probably the largest modern plant in the United States. The S. S. Kresge Company owns all the common stock and table ware is shipped from Mount Clemens to all the Kresge stores.

In discussing the new waterways, Mr. Doll says there will be large bulk shipments of clay from England and of feldspar from Florida by water as soon as the double handling at Montreal is eliminated. At present they ship by rail from Montreal or New York rather than handle the cargo twice.
Kresge sold the pottery after forty-five years of ownership. Details of the sale ran in The Detroit Free Press on Tuesday July 27, 1965:
H. B. Cunningham who doubles as president of the S. S. Kresge Co. and of Mt. Clemens Pottery Co., wholly owned by S. S. Kresge, announced Monday that Mt. Clemens Pottery completed sale of all of its business and its assets to D. T. Chase Co., a Michigan corporation, for an undisclosed price.

David T. Chase, of Hartford, Conn., owner and president of D. T. Chase, said Mt. Clemens Pottery's business will be conducted through a wholly owned subsidiary of D. T. Chase Co. and continued under its present name.

Officers of the new Chase subsidiary are Chase, president and treasurer, Kerry R. Lyne, of Boston, vice president, C. E. D1ol Jr., vice president, Frank W. Donovan, secretary, J. R. Doll, assistant vice president and assistant secretary, and C. E. Doll, assistant treasurer.

Chase said he plans to continue to operate the company which is one of the largest pottery manufacturing companies in the United States and one of the largest employers in Mt. Clemens, substantially as it has been operated in the past.
The pottery closed in 1987. It never reopened and the plant was demolished in 1993. The following announcemnt regarding the closure appreared in The Detroit Free Press on Saturday, December 12, 1987:
The Mt. Clemens Pottery plant, a city landmark since 1915, will cease production today, idling 200 employees. The retail store is to remain open. The Owner, Action Industries Inc. of Cheswick, Pa., said the plant was a victim of low-cost overseas competition.

A spokesman said employees are thinking of buying and reopening the factory, which produced dinnerware, mugs, and decorated glass.
---
Mt. Clemens Pottery was at the center of a dispute that resulted in the Portal to Portal Act of 1947. A "Michigan Legal Milestone" plaque was placed at the Macomb County Courthouse memorializing the case and reads:
The Mount Clemens Pottery Company, opened in 1914, was for many years a major area employer. During World War II the company employed about 1,200 workers, who punched time cards upon arrival, but were paid only when productive time began, which as calculated by the company was 14 minutes later. The employees, represented by Edward Lamb of Toledo, sued, alleging a violation of the Act. Bert V. Nunneley of Mount Clemens and Frank E. Cooper of Detroit represented the Pottery. A decision in the employees' favor by the U.S. District Court was overturned by the Court of Appeals.

Justice Frank Murphy, a former Michigan governor and mayor of Detroit, wrote the 1936 decision of the U.S. Supreme Court reversing the Court of Appeals. The Supreme Court held that time spent by employees in walking to work after punching a time clock, and in preparing to start work, constituted working time within the overtime provisions of the Act. The following year Congress, responding to the Mount Clemens Pottery decision, enacted the Portal-to-Portal Act to relieve employers of the obligation to pay for time spent in nonproductive activities, except where such activities are compensable through custom or contract, notably through collective bargaining.
---
Toulon was one of Mt. Clemen's first dinnerware shapes. It was a round scalloped shape with small periodic embossing inspired by Havilland's Ransom dinnerware line. Many other potteries had similar shapes such as Homer Laughlin's Republic, TS&T's Avona, and W. S. George's Radisson just to name a few. Most of MCPCo's Toulon will have the shape name in the backstamp. This was not common practice for the shapes that followed.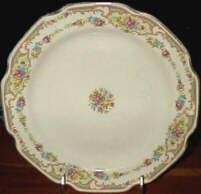 After Toulon, there was a plain round rim shape as well as Petal, a.ka. Petalware. Petal was first sold with decals and in Depression era green and yellow glazes. When Fiesta dinnerware took off, MCPCo started to make Old Madrid, a rainbow line made up of the older green and yellow along with a dark red, and a deep blue glaze with a matte texture. The round vegetable bowls were glazed in other colors to create specialty salad nappies.
Nelton and Alara were also decal shapes. Two of the more popular patterns featured on Nelton were Mildred (shown at the right) and Golda. Alara was also made in the same solid colors used on Petal for Old Madrid. Most Alara in the colored glazes was unmarked.
Stetson China would often decorate MCPCo blanks and mark them with their overglaze backstamp. According to The Official Price Guide to Pottery and Porcelain, 8th Edition by Harvey Duke, Stetson used the name Oxford for Nelton. They also renamed Alara by calling it Airflow. Duke also identified the Vogue shape, a scalloped, rim shape with embossed birds and flowers.
Not all MCPCo ware was marked. The underglaze backstamp usually consists of intertwined initials of the pottery. Cups, sugar bases, creamers, oatmeal bowls (trade size name, 36s bowls), were often marked in the mold with an embossed U. S. A.
---
For more on Mt. Clemens Pottery:
Larsen, Deborah J. "Formed by Fire: Mount Clemens Pottery and and Industry-Shaping Lawsuit." Michigan History, Vol 106, No 2, March/April 2022, 34-39.
MCPL (Mount Clemens Public Library), 2008. Mount Clemens Pottery Company, Local History Sketches, pp.1-3 (LINK)