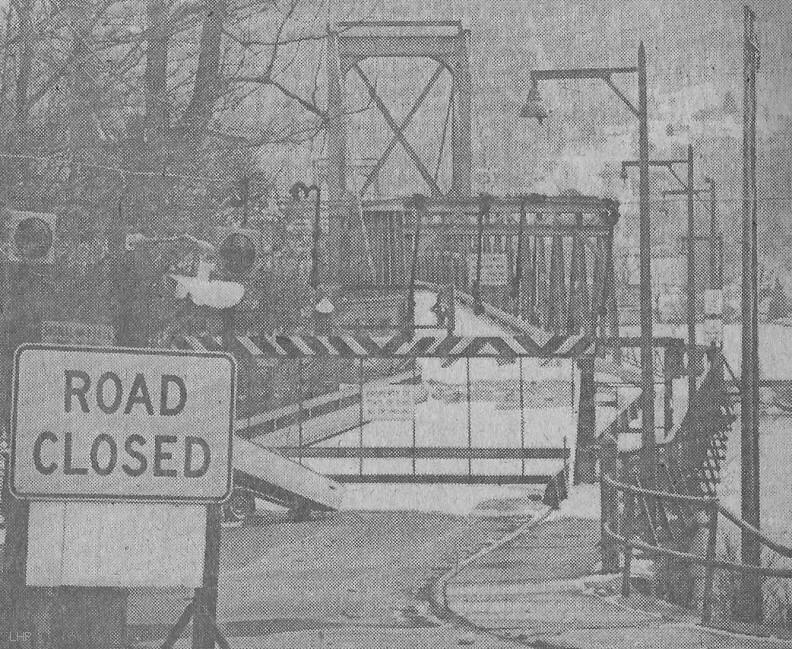 Ohio side of the Chester Bridge after its closing in 1968.
Left: From the Evening Review, November 5, 1970; Demolition crews today began recovery of remaining steel members of cables and towers of the Chester Bridge which were pulled into the Ohio River Wednesday afternoon. [Snip] the tower on the Ohio side leans precariously with cut cables dangling from its top. Workers of the Crain Brothers Inc. today were removing the cables and steel structures from the water, and only the two stone piers in the river and the abutments on each shore were left of the 73-year old span which was condemned in May 1968 as unsafe.
Right: From the Evening Review, December 3, 1970; Disappearing Pier. Demolition crews today continued removal of the stone pier of the former Chester Bridge on the Ohio side of the Ohio River. The Crain Brothers Inc. firm is scheduled to remove the pier on the West Virginia side soon as the final phase of the razing of the span.
---


The West Virginia side abutment was converted into an overlook.
Overlook Dedication in Chester with East Liverpool, Ohio across the river.