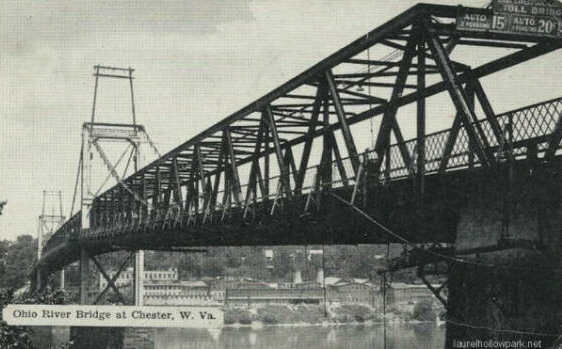 The Chester Bridge was built by the Penn Bridge Company in 1897 and connected East Liverpool, Ohio to First Street in Chester, West Virginia. It was 1, 710 feet long and part of the Chester and Rock Springs Railway Company until 1905 when it became part of the East Liverpool Traction and Light.

After the Silver Bridge in Point Pleasant, WV collapsed in December 1967 killing forty-six, all bridges along the Ohio River were inspected. The Chester Bridge was declared safe for traffic even though, according to one Ohio Department of Highways report there was, "a bent grinder, broken weld spots, and holes in the roadway." Weight and height restrictions were implemented. Buses and heavy trucks had to be rerouted to either the Newell Bridge or Shippingport. Shortly thereafter it was discovered that, "corrosion had eaten into the cables in the anchorage on the Ohio side." The bridge was finally closed to all traffic on May 14, 1969.

While Chester was without a bridge, traffic on the Newell Bridge tripled and both sides became congested. For a number of years toll was collected only for those travelling from Ohio. After the Jennings Randolph Bridge was opened in 1977, tolls were collected for both ways on the Newell Bridge.