• Ballerina

Plain round soupe shape - handles and finails are ring shaped
Comes white or solid colors with decal treatments
Also blue body with decals as "Ballerina Mist"
Plain solid colors include:

Periwinkle Blue
Turquoise
Pink
Jade Green
Jonquil Yellow
Burgundy
Forest Green
Chartreuse
Dove Grey (light grey)
Charcoal (dark grey)
Sierra Rust
Antique White

Produced primairly in the 1950s
Assortment consists of approx. 50+ dinnerware and kitchen items
Turquoise creamer, pink lug handled platter,
Ballerina Mist sauceboat and stand.

Forest green teapot, chartreuse
demi cup and saucer, grey water jug.
| | |
| --- | --- |
| | |
| Square plate in burgundy | Handled Tray in burgundy |
---
| | |
| --- | --- |
| | |
| Marking | Lug soup |
Cup and saucer, dinner plate
Covered butterdish

Sauceboat with stand,
Round serving tray
---
"Madeira"

"Cypress"

"Coral Lily"

MADEIRA:
"Like an old-fashioned painting, Maderia is a still-life of fruit and flowers.
The delicate blooms and vines, the graceful grapes and luscious plum fill
a basket with color and create a pattern of antique beauty. All colors are
applied over smooth ivory-white."

CYPRESS:
"Warm autumn colors in unique design -- Tiger Lily red, browns, grays
with charcoal accents. Use with harmonizing cloths, woven mats or contrast
with green. Ivory-toned rimless shapes."
Vintage Ballerina Ads
Courtesy: Candy Fagerlin

"Peach Blossom"

"Moss Rose"

"Star Lily"
---
The following line has the Universal Ballerina backstamp.
While the flatware does seem to be the standard coupe
shape, the hollowware is a mix of different shapes.
Along the left hand side of the marking is:

EXCLUSIVE DECORATION BY COMDE.

All images Courtesy: Judith Stout
Unmarked sugar and creamer
with the Comde Rose decal

Ballerina shape bowl
| | |
| --- | --- |
| | |
| Ballerina shape platter | Covered teapot |
---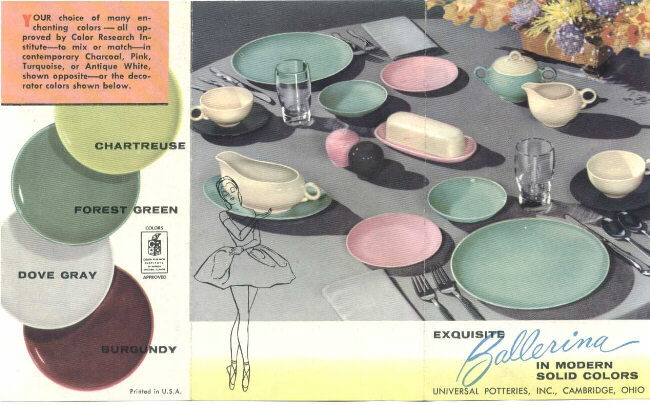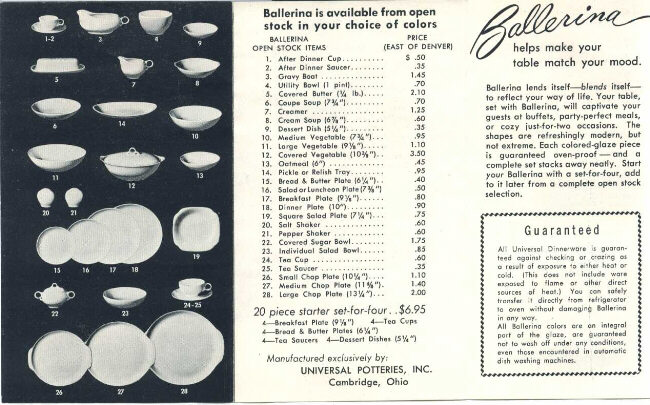 Price List for Solid Colored Ballerina
Courtesy: Fred Mutchler
Ballerina Mist examples: Snack set, small plate, lug soup.
Courtesy: J. Stout

---

This mid 1950s magazine ad features Strawflower on Ballerina Mist.
Close ups of the other patterns can be viewed below.

---

1950s ad for Corsage on the Ballerina shape.
Courtesy: Fran & Carl Stone .

---

1952 ad for Ballerina Accessory Pieces.
---
© 2009-2015