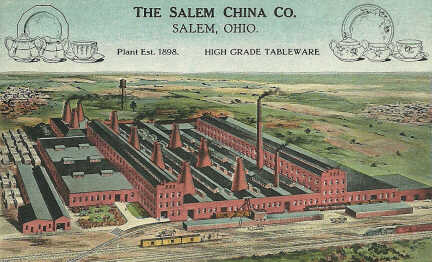 The Salem China Company was located in Salem, Ohio in Columbian County, northwest of East Liverpool.

It was founded by Patrick and John McNicol, Daniel Cronin, and William Smith in 1898 with production beginning a year later.[1] (It should be noted some sources claim it was Thomas McNicol who partnered with Smith and Cronin.) In 1918, the pottery was purchased by F. A. Sebring and Floyd W. McKee was put in charge until he retired in 1950. Charles F. Fox served as assistant secretary and treasurer, and J. A. Armstrong was sales manager for many years.

By 1930, the pottery was firing 25,000 pieces per day and at the height of production employed over 500 people.

Salem China stopped manufacturing wares in the 1960s and was reorganized into a sales and service company.[2]

Many of the distinctive shapes from the 1930s and 1940s were created by designer Vicktor Schreckengost. Some of the more collectible ones are Tricorne and Free Form. Other popular shapes include Symphony, New Yorker, Heirloom, and Century.

On Wednesday, July 23, 2003, the southernmost portion of the factory was destroyed by fire.[3]
---
References:
[1] Duke, Harvey. The Official Price Guide to Pottery and Porcelian, 8th Edition. New York, NY: House of Collectibles, 1995
[2] Lehner, Lois. Lehner's Encyclopedia of U.S. Marks on Pottery, Porcelain & Clay. Paducah, KY: Collector Books, 1988
[3] Shields, Larry. Fire destroys old Salem China factory. The East Liverpool Review, July 24, 2003