Continental Kilns & Vincent Broomhall
LaurelHollowPark.net, an informative website created and
maintained by Mark Gonzalez. Copyright © 2009-.
---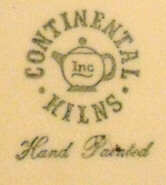 Continental Kilns was a pottery company in Chester, West Virginia which operated from 1944 until 1954. It was spearheaded by designer Vincent Broomhall who intended to make translucent ware similar to Bellek.[1].

The following press release is from the first week of November 1944:
A newly incorporated firm is preparing the former Davidson Porcelain Co. plant in Chester for production of translucent china and a complete line of fancy gift items, with operations expected to get under way early in January.

Incorporated in West Virginia as Continental Kilns, the company has Vincent Broomhall of East Liverpool, former art director of the Edwin M. Knowles China Co., as president.

George Campbell of Beaver is vice president, Howard Schwitzer of Cleveland, secretary and treasurer, and Harry Stull of Newell, formerly of the Homer Laughlin China Co., as plant superintendent.

Mr. Broomhall, who also will handle sales, said the plant "definitely will not be engaged in the manufacture of novelties."

He said production will get underway with 50 persons awaiting the construction of a double tunnel kiln 80 feet long to be built by the Allied Engineering Co. of Cleveland. The company has received permission of the ware production board to use gas, he added.

The ware will be "one-fired" and the principal type of decoration will be hand-painted underglaze, Mr. Broomhall pointed out. Production will average about 5,000 dozen pieces a month, he estimated. The plant is 170-feet square.
Most examples of Continental Kilns found today will be hand-painted patterns on semi-vitreous bodies. Some of the most common patterns and pieces are:
American Beauty Rose - an embossed shape with pink or yellow flowers. Also known as Green Arbor and Garden Rose. Solid colors such as yellow also exist. After the firm closed, Broomhall took American Beauty Rose to Canonsburg Pottery where it was produced for a short time.
Woodleaf - yellow and brown floral on a square shape. Some pieces in contrasting brown.
Cat Tail - brown and green cat tail decoration. Some pieces in contrasting green.
Tropical - brown and green leaves
Tahiti - palm tree in browns and greens
Puritan - the Green Arbor shapes with gold trim
Bali Hai - red, green and brown floral
Stardust - brown leaves with green bursts
Child's Duck plates, bowls, and mugs in blue and pink
Borden's Elsie mugs
Jumbo "mother" and "father" cups
Snack plates
Trade Winds - coral and brown leaves
Luster - various pieces with pearlized glaze and gold trim
The following ran in the January 1954 issue of Ceramic Industry:
Continental Kilns to go out of business.

Because of rising labor costs, Continental Kilns of Chester, W. Va., is going out of business, it was announced by Vincent Broomhall, the firm's general manager. Ultimately the plant will be sold, but the offices will remain open for several months.

Operations were started at Continental about ten years ago when it was operated as an art pottery. When this business declined, the firm entered the hand-decorated dinnerware business. Before going with Continental, Broomhall was art director at the Edwin M. Knowles China Co. for eight years.
After the pottery closed, the building was taken over by Metsch Refractories. The refractory plant was founded in Newell, WV in 1919. After it was damaged by fire in 1957, it moved to the Continental Kilns location the same year. Today, Metsch Refractories, Inc. produces ceramic components for electrical and industrial applications.
---

Metsch Refractories in Chester, West Virginia. Nov. 2013.
---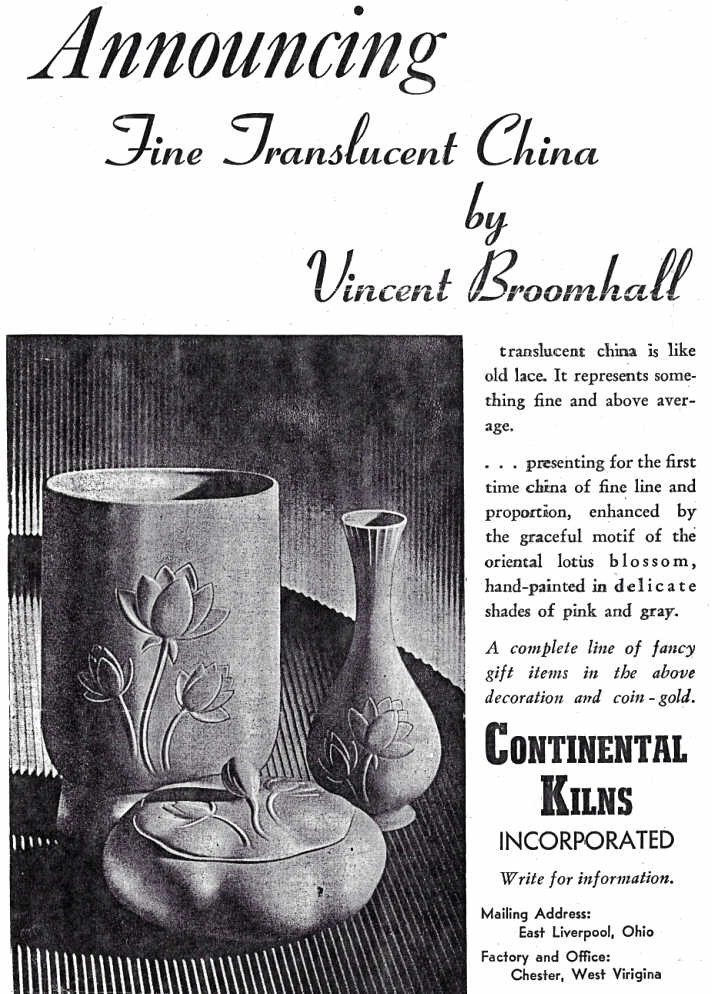 Trade advertisement for translucent art ware.
Crockery and Glass Journal, June 1945.
---
Continental Kilns examples


"American Beauty" jug, sauceboat, and liner.


"American Beauty" creamer and sugar/marmalade.
| | |
| --- | --- |
| "Woodleaf" gravy fast stand. | "Woodleaf" dinner plate. |
| | |
| --- | --- |
| Handled Tray | Lotus Blossom 22K Gold Vase |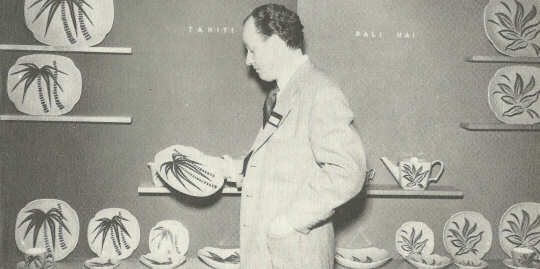 Vincent Broomhall looking over his wares at a trade show in the 1950s.
Vincent Broomhall (1906-1991) worked at the Edwin M. Knowles China in Newell from 1935 until 1944 when he left to start up Continental Kilns. From 1962 to 1972, he was art director at the Homer Laughlin China Company. He also designed wares for some of the surrounding potteries such as Cannonsburg, Harker, Salem, and Sterling.[2]. Some of the lines featured on this site Broomhall designed for Knowles and HLC are in the table below.
---
[1] Lehner, Lois. Lehner's Encyclopedia of U.S. Marks on Pottery, Porcelain & Clay. Paducah, KY: Collector Books, 1988
[2]Nossaman, Darlene. "Vincent Broomhall. Master of Abstract Design." The Dish Vol. 15, No 3, Spring 2013, pp 8-9