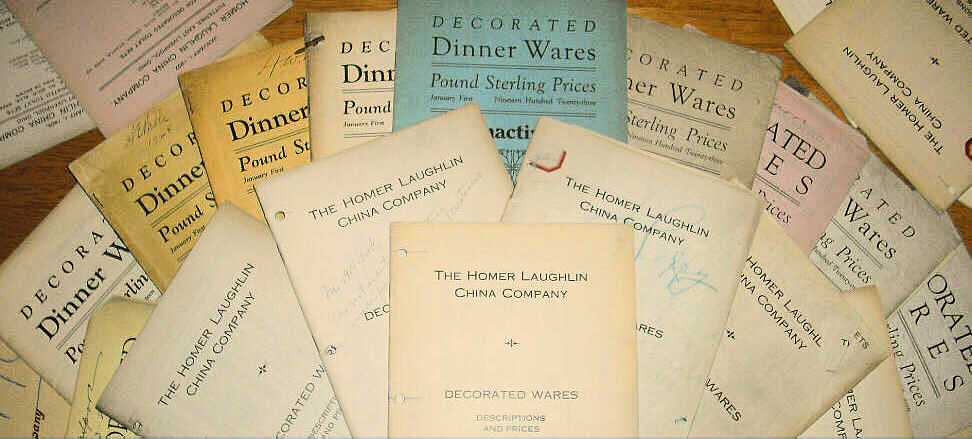 Pictured above are Pound Sterling catalogs from the Homer Laughlin China Company. This particular set ranges from 1901 through 1929 and includes price scales for decorated ware based on shapes, grades, and assortments. They are particularly useful in dating when a specific shape and/or decoration was made available. They can also be used for decal and treatment identification.
The following mouth ewers come from toilet sets. Both have treatment numbers written in gold beside their backstamps. The ewer with treatment 2164 is HLC's Wyoming shape, and the one with 2216 is Duchess. A quick look in the pound sterling books gives a good description of the decals used as Flag Iris and Pink Daisy. For more on toilet ware treatments, see the table at the bottom of this page.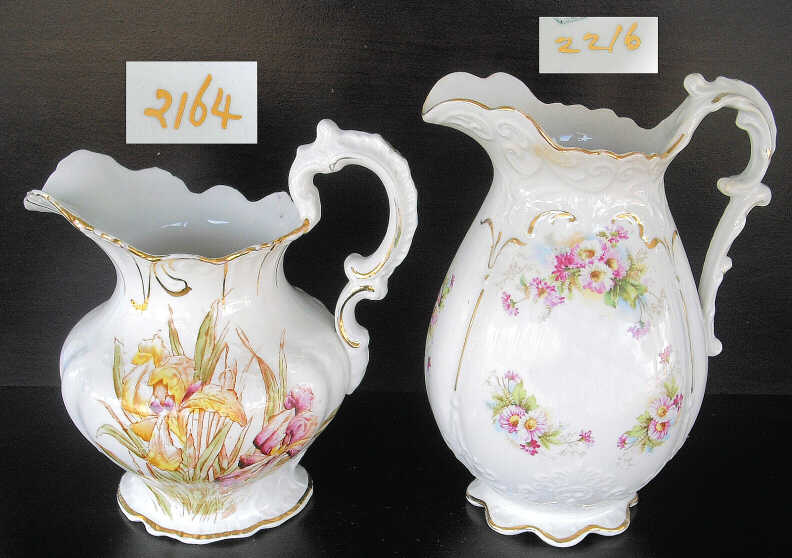 Treatments are listed in the catalog with a pattern number first, the pricing scale to be used, the shape, and then a description of the treatment. Here is an example of a few treatments used on the Seneca shape in 1909:

The information in the table below comes from the scale catalogs. Along the left hand column are the dates of the catalogs. Those in parentheses are years in which I don't have the catalogs. Along the top are various dinnerware shapes available from 1901-1929. Boxes shaded green indicate when that particular shape appeared in a given catalog.
It should not to be inferred from the table that American Beauty, Golden Gate, and Colonial were introduced in 1901. They originated in the late 1800s and were established shapes before this set of catalogs was published.
The number of treatments for each shape from 1901 to 1911 has been added to the table. American Beauty, Colonial, and Seneca peaked in 1903. Golden Gate starts to trail off in 1904 and is no longer listed by the 1906 catalog.
Click on the year below to view the entire contents of that particular price scale catalog.
Listings after the 1929 catalogs are catalogs and lists from various years from the 1930s into the 1970s. These can also be helpful in identification of wares made during those times. There may be a little more work in cross referencing a pattern. For example, in Modern Farmer, MF-9 references back to the Virginia Rose treatment, VR-387 whereas MF-20 goes back to the Nautilus pattern, N-225.
Most treatment numbers can be found on the undersides of oval bakers (and sometimes round vegetable bowls), and the undersides of casserole lids. This photo shows a Skytone round serving bowl with the treatment number SR-120 stamped in gold. Looking up the number in the Skytone list reveals the pattern as "Marcia" made for Sears in the 1950s.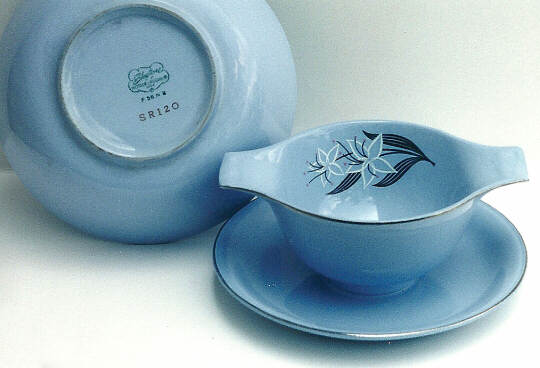 The materials on this page have been gathered over the years by myself, Jo Cunningham, Joanne Jasper, and Darlene Nossaman. It is by no means complete. However, it is a good starting point should you wish to know more about vintage and collectible HLC wares.